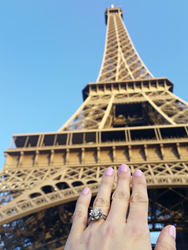 This in an interactive one on one customer wedding and engagement experience that fuses the customer and the jeweler/architect together
New York, New York (PRWEB) July 29, 2014
In New York City's Historic Diamond District, TraxNYC has launched a one on one custom design process that fuses the buyer, the professional artist, and the unique vision of the future bride or groom's custom wedding and or engagement experience. TraxNYC specializes in custom gold, diamonds, jewels, and luxury timepieces such as Hublot, Audemars Piguet, and Rolex.
TraxNYC is one of the leading online custom Hip Hop Jewelers in the custom jewelry industry. It was when a coveted customer walked in with an expectation of a custom ring he'd planned on proposing to his potential partner with in Paris, that TraxNYC's CEO had an epiphany - it was simple; to have the customer interactively involved in the process so that the piece would be perfect for the customer's special day in France.
Technology has become such an intricate part of everyday consumers lives - a move in this direction made perfect sense for the online jewelry company. Technical aspects of jewelry design are typically overlooked by the customer or shadowed by the jeweler; TraxNYC hopes to bring a new process to the ancient standard process of creating and purchasing unique jewelry.
"This in an interactive one on one customer wedding and engagement experience fusing the customer and the jeweler/architect together," says TraxNYC CEO, Maksud Agadjani - "What TraxNYC is doing is allowing the customer to be hands on in every detail of developing their vision. We are taking it a step further allowing the customer to be a part of the technical design process here at our headquarters. We want them to see how it is made...to make sure it is exactly what they have envisioned."
Each custom piece is designed in CAD software and can often take hours upon days to perfect, and while the customer is usually not a part of this process, they now will be as part of the interactive launch at TraxNYC.
"This is major. It is common for high-end jewelers to now feature a custom tool on their website for their customers, however, instead of focusing on the tool for our website (which will debut in late Fall of 2014), we are focusing on the customer experience", says Agadjani.
The launch is one of the several additions TraxNYC has released in 2014 as the company approaches the 10 Year Anniversary in September.
For more information about TraxNYC, Contact David Asryan at: 212-391-3832.
About TraxNYC:
TraxNYC is online jewelry company founded in 2004 and located in New York City's Historic Diamond District. TraxNYC specializes in custom jewelry, diamonds, gems, gold, and luxury timepieces.