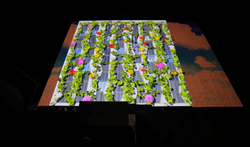 "This will help bring teams up to speed and communicate clearly about their objectives." - J Matthew Nix, Project Lead for Chicago Projection Mapping.
Chicago, IL (PRWEB) July 29, 2014
Chicago Projection Mapping (CPM), a Chicagoland-based content and 3D projection company, announced today the release of a quick-reference glossary of terms for projection mapping. Written by the CPM team, the guide was designed for agencies, creative firms, and marketing groups looking to quickly bring themselves up to speed with the terms behind projection mapping. The glossary is available today through Chicago Projection Mapping's website.
By using their years of experience within the projection mapping field, Chicago Projection Mapping created this glossary based on the terms a client is most likely to encounter in the span of a conventional mapping project. The glossary takes a no-nonsense approach by simplifying the terms of art into plain English, drawing on all aspects of the creative, mapping, and technical process. For event marketers looking to communicate clearly with an audio/visual team, or an ad agency striking out on their first project with a projection mapping company, everything from lumens to window treatments are explored and explained.
"By streamlining this glossary based on what a client is likely to encounter on an actual project, we're creating the most practical guides on the internet," said J Matthew Nix, Project Lead for Chicago Projection Mapping. "This will help bring teams up to speed and communicate clearly about their objectives."
Chicago Projection Mapping continues 2014 with new permanent and promotional displays and installations. CPM remains at the forefront of Midwestern projection mapping, including architectural projection mapping, activations for event marketing, 3D and 4D video mapping displays, and projection mapping for trade shows and corporate events. For inquiries or a free quote, please email info(at)ChicagoProjectionMapping(dot)com.
About Chicago Projection Mapping:
Chicago Projection Mapping (CPM), an Absolute Vision Media Inc. company, is among the nations leaders in top-tier 3D and 4D projection mapping and video mapping services. CPM distinguishes itself above traditional AV and projection companies, with a focus on future-proof, value-oriented projection solutions, followed with exceptional client service and unmatched creative content. Further, CPM takes a hands-on approach to developing never-before-seen implementations of mapping, including permanent installations in both residential and commercial spaces, and cutting-edge interactive applications of mapping through their research and development division, CPM Labs. From concept to completion, Chicago Projection Mapping is the preferred national and international partner for dozens of agencies, businesses, firms, and audio/visual companies alike. For more information and samples of work, please visit http://www.ChicagoProjectionMapping.com.