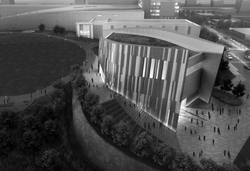 SSA also presented an added advantage as a family-owned business that understands the unique needs of cultural attractions and museums. - Terrie Rouse, Chief Operating Officer
Atlanta, Georgia (PRWEB) July 30, 2014
Service Systems Associates (SSA), a leader in providing guest services for cultural attractions, has been selected by the National Center for Civil and Human Rights in Atlanta to manage its retail operations.
The 43,000 square-foot Center, adjacent to the World of Coca-Cola and the Georgia Aquarium, opened mid-June 2014 and contains galleries devoted to both civil and human rights. With original artworks and interactive displays, museum leaders hope guests will consider where they fit into civil rights history and how they can impact human rights issues today.
The Center's CEO Doug Shipman said, "Joining in a partnership with SSA was a natural fit for the Center for Civil and Human Rights because we both share a strong commitment to creating a quality experience for our visitors and having a positive impact on the community."
"We are eager about this opportunity to provide guests of the new Center for Civil and Human Rights with a unique retail experience. We have a long history of proven results in zoos and aquariums, and we have recently extended our expertise to more museums," said Tim Brantley, President and CEO of SSA. "We are honored to help welcome guests to this important museum and to contribute to its momentum and future growth," he added.
As part of the agreement, SSA was responsible for designing and stocking the museum's retail space. Shipman said that opening the gift shop in The Center allows them to expand the experience and to continue to educate visitors about the significance of civil and human rights around the world.
The Center's Chief Operating Officer Terrie Rouse said that the goal is to create a retail experience that is an extension of The Center, so that people leave feeling truly inspired and empowered. She added, "SSA was highly recommended as a one of the premiere providers of retail and food services in the country. SSA also presented an added advantage as a family-owned business that understands the unique needs of cultural attractions and museums."
Brantley said that SSA creates one-of-a-kind store designs and selects specialized products that distinctly reflect the mission of a partner's attraction. Rouse added that SSA's unique vision of how to animate the retail space coincides well with the vision of The Center. "The company made an initial selection of products for the store, and immediately found fun and interesting ways to celebrate individuals in history in the items featured in our gift shop," she said.
The Center
The manifestation of a multi-year collaboration of civil rights leaders, historians, renowned photographers, artists and other creative types, the museum's exhibits take guests on an emotional yet uplifting journey through the Civil Rights movement in the U.S., starting with the 1954 Brown vs. Board of Education Supreme Court ruling, and transitioning into modern-day, human rights struggles. One exhibit allows guests to experience what it was like for black students during the student sit-ins at lunch counters of drugstores like Woolworth's, in which they demanded to be served food alongside whites. Guests can put on a pair of headphones and hear the escalating threats and taunts that protesters heard.
In the space that depicts King's 1968 assassination, guests climb a set of stairs designed to look like the balcony of Memphis's Lorraine Motel where the civil rights leader was shot. Large black-and-white photos document the tragedy. Another exhibit depicts a Freedom Rider bus covered in back-to-back mug shots of the activists who were jailed. But, as the photos illustrate, many of the activists were not just African American.
Displays in the human rights gallery encourage guests to connect with particular human rights struggles through interactive mirrors. Activists are shown in nearly life-size images representing women's rights in Iran, immigrant and disability rights and disability rights in the U.S., and LGBT rights in Russia, among others. The gallery calls history's human rights offenders, including: Adolf Hitler, Joseph Stalin and Pol Pot, but also celebrates human rights icons such as Nelson Mandela, Eleanor Roosevelt, and Mahatma Gandhi.
The design of the building physically represents The Center's vision with its curving walls that embrace the interior exhibit and support the program spaces in a manner that suggests the joining of hands. While The Center emphasizes civil and human rights, it also focuses on being environmentally friendly. The Center's design architect, Phil Freelon, designed a building that is expected to earn the environmental-friendly LEED Gold status. One highlight is grass rooftop that recycles water. Rouse said that SSA's commitment to remain environmentally responsible aligns well with these efforts to ensure The Center contributes to improving the local community and conservation efforts.
About Service Systems Associates, Inc.:
SSA manages retail, culinary and guest services amenities at more than 40 museums, botanic gardens, zoos and aquariums in the United States, including the Monterey Bay Aquarium, History Colorado Center (Denver), The Autry National Center (Los Angeles), Saint Louis Science Center, Thanksgiving Point (Utah), as well as the Los Angeles, Miami, San Francisco and Denver Zoos. The company is a national leader in guest service amenities for cultural attractions, serving over 28 million guests annually. For more information, please visit the website at http://www.KMSSA.com.
About the National Center for Civil and Human Rights:
The Center for Civil and Human Rights in downtown Atlanta is an engaging cultural attraction that connects The American Civil Rights Movement to today's Global Human Rights Movements. The Center will feature four immersive and thought-provoking exhibitions, including a continually rotating gallery of items from The Morehouse College Martin Luther King, Jr. Collection, where visitors can view the personal papers and items of Dr. King. The Center will also provide designated event spaces and educational programs inspiring visitors to join the ongoing dialogue about contemporary movements for human rights around the world. For more information on The Center, please visit http://www.civilandhumanrights.org. Join the conversation on civil and human rights on Twitter @Ctr4CHR and Facebook.