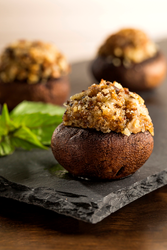 Oklahoma (PRWEB) August 01, 2014
The days of summer may be winding down, but the Made in Oklahoma Coalition continues to serve up sizzling recipes. With the heat still peaking, stay cool with a zesty, chilled summer beverage or try these easy-to-make dishes.
Friends and family will rave about the coalition's sausage-stuffed mushrooms. Crostinis with basil cream spread are a fresh and unique idea for a picnic, and a chilled summer sparkler beverage made with rosé wine is sure to cool you down.
The Made in Oklahoma Coalition recipes offer delicious dining ideas while promoting the brands manufactured in the state. For these recipes, M.I.O. has brought together six Oklahoma based member companies to help prepare this meal: Shawnee Mills, J-M Farms, JC Potter, Hiland Dairy, Bar-S, and Suan's.
Sausage-Stuffed Mushrooms
1 package Shawnee Mills Cornbread Mix
3 (8-ounce) packages J-M Farms Cremini Mushrooms
½ pound JC Potter Italian-Style Sausage
5 medium shallots, finely diced
¼ teaspoon dried red pepper flakes
Kosher salt and freshly ground black pepper (about ½ teaspoon each or to taste)
3 tablespoons Hiland Dairy Unsalted Butter
1/4 cup freshly grated Parmesan cheese
3 tablespoons extra virgin olive oil
1. Make cornbread according to package directions. Bake, then set aside to cool. Once cool, crumble 1/3 of the cornbread to make 2/3 cup cornbread crumbs.
2. Wash and dry the mushrooms, then remove stems. Finely chop mushrooms stems, along with 2 large whole mushrooms caps.
3. Preheat oven to 400 degrees.
4. Cook sausage in a medium sauté pan over medium heat until browned. Add the shallots and red pepper flakes, cooking until shallots are tender, about 4 minutes. Stir in the chopped mushroom stems, ½ teaspoon salt and ½ teaspoon pepper, then cook for about 3 minutes. Add butter, stirring until melted.
5. Transfer mushroom mixture to a large bowl, and stir in the cornbread crumbs and Parmesan cheese. Season to taste.
6. Place mushrooms in a buttered shallow baking dish. Stuff each mushroom cap with the mushroom mixture. The filling should form a tall mound. Drizzle mushrooms with the olive oil, and bake until the mushrooms are tender and the breadcrumbs are golden brown, about 20 minutes. Serve warm.
Tip: Leftover filling is great on sliced buttered bread as a mushroom crostini.
Crostini with Basil Cream Spread
2 cups fresh basil leaves
¼ cup pine nuts
3 garlic cloves, minced
½ cup Parmesan or Romano cheese
½ cup extra virgin olive oil
Salt and pepper, to taste
1 (8-ounce) block cream cheese, softened
3 slices Bar-S Fully Cooked Bacon, cooked and crumbled
Baguette
1 stick Hiland Dairy Unsalted Butter
Suan's Scotch Bonnet Pepper Relish
1. In a food processor, combine basil and pine nuts. Pulse a few times to chop the basil and nuts. Add garlic and cheese, continuing to pulse until combined. Add the olive oil in a steady, slow stream with the food processor on. Scrape down the sides of the bowl, taste and season with salt and pepper to taste.
2. Beat cream cheese in a mixing bowl until smooth. Add ½ cup pesto and bacon, stirring to combine. Set aside.
3. Slice baguette into rounds. Spread each slice with softened butter. Place on a cookie sheet and bake for 6 to 8 minutes, or until crisp, at 350 degrees.
4. Once out of the oven, spread cream cheese spread on each baguette slice. Top each with generous serving of Suan's Scotch Bonnet Pepper Relish.
Summer Sparkler
½ gallon Hiland Dairy Raspberry Sherbet
1 (12-ounce) can frozen pink lemonade concentrate
4 cups (1 quart) lemon-lime soda or ginger ale, chilled
4 cups (1 quart) rosé wine, chilled
1. Set out sherbet so it's slightly softened before making the drinks.
2. In a 2-quart size pitcher, combine pink lemonade concentrate, soda and wine. Stir to combine.
3. Pour into individual sugar-rimmed glasses. Add a scoop of sherbet to each glass. Stir, or leave the sherbet on top. Garnish with fresh mint or raspberries. Also good served over crushed ice.
The Made in Oklahoma Coalition provides a marketing and promotional platform for the benefit of more than 45 current Oklahoma food manufacturers. M.I.O.'s programs build brand preference and loyalty for member products. Coalition-member companies create a positive impact on the state's economy by helping put more than 27,000 Oklahomans to work, and they generate over 3.5 billion in annual sales. Collective and cross-marketing programs, organized by the coalition, increase sales throughout the state, nation and abroad. The M.I.O Coalition continues to expand the footprint of Oklahoma's food processing sector through business retention and stable growth. M.I.O., Good for Oklahoma. Good for you. For more information visit http://www.miocoalition.com.
###