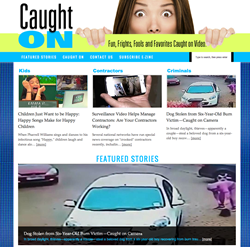 Surveillance video, home monitoring and security cameras are increasingly playing a role in crime prevention.
Toronto, Canada (PRWEB) July 28, 2014
Surveillance video, home monitoring and security cameras are increasingly playing a role in crime prevention, according to features in Caught On Magazine. These videos also reveal just how disturbingly personal these crimes can be.
"The Family That Steals Together? Surveillance Cameras Reveal a Broad-Daylight Theft by a Mother and Father in Front of Their Children."
A video highlighting a theft of house plants reveals where criminals may get their start. It exposes not only a theft, but also shockingly bad parenting. In the video, an apparent father, with his family, pulls up in front of a store, snatches some displayed plants, and runs back to his car and family—complete with impressionable children.
The mother appears to be an accomplice, the driver in the getaway car. In the back are two kids, playing and peaking out the windows at their allegedly thieving dad. The video was captured by store owner Catherine Griffiths, who hoped the video would lead to a "name and shame" on YouTube.
"Surveillance cameras really make the difference in the case of a theft," said Maureen Campbell, Director of Marketing and Communications at iWatchLife, a do-it-yourself home security monitoring service. "A monitoring service with activity recognition, a feature included with the iWatchLife service, will record events in areas that matter, say, a door or window, but filter out meaningless events, like the cat walking through the room. The system sends an alert in real time to your smartphone, so you can call police."
With activity monitoring, the store owner might have been notified live, in time to catch the thieves. After the fact, the video can be used in a criminal investigation—or perhaps an investigation by child services.
According to Socialnomics, 80 per cent of police officers surveyed use social media such as YouTube videos to solve crimes.*
Watch the videos and read the full story.
"Dog Stolen from Six-Year-Old Child Caught on Camera"
Another pair, who appear to be a male and female, perhaps a couple, steal a dog in broad daylight—caught on a home video monitoring system.
The crime is particularly devastating to the dog's caregiver, a six-year-old boy who was given the dog to help him recover from a burn trauma.
Watch the video and read the story.
About Caught On!
Caught on video! Caught On zine showcases those special, fun, scary, candid, freaky moments captured by home and business security cameras, street cameras, surveillance videos or smartphones.
Pervasive cameras have changed our world. We are more secure today because of them. We also capture more of life's treasured moments thanks to cameras everywhere. Our phones have cameras. Street corners, stores, businesses and subways all have them. Increasingly, more and more homes have them—and not just at the door for security, but throughout the house.