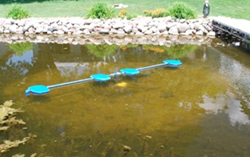 Rogers, MN (PRWEB) July 29, 2014
Pond and lake weed control products and services provider, Lake Restoration of Rogers, MN, today announced that they have added a 36' LAKEMAID® to their product offerings. They have also upgraded the anchoring system on the LAKEMAID®.
The LAKEMAID® is a lightweight lake weeds and muck removal machine and is now being offered as a 36' unit. The LAKEMAID® eliminates submerged weeds near dock and swimming areas while removing muck and silt for a clean, sandy lake bottom. This new unit covers 1,010 square feet and quickly eliminates weeds by making 3,000 rake passes within 24 hours. The LAKEMAID® eliminates weeds in a few days and continues working as long as you'd like. The rakes simply brush across the lake bottom, keeping your area clean and clear of lake weeds. The LAKEMAID's® rakes will also eliminate the build-up of silt and muck.
The LAKEMAID® is environmentally safe. The support arms gently pull the rakes over the lake weeds, gradually wearing them down until they disintegrate completely. This means very few weeds end up on the shore and won't accumulate in the swimming area. The LAKEMAID® is also available in 12' units that cover 110 square feet and 24' units that cover 450 square feet. "The LAKEMAID® is not difficult to install and once that is completed, we can forget it and just watch the efficiency of the LAKEMAID®," says Shirley Larson, a current LAKEMAID® customer. "I especially like the free standing unit." All units can easily be installed or removed within 15 minutes.
All sizes of the LAKEMAID® receive the upgraded anchor system. The new anchor system prevents the pump from turning and the cord from twisting. Instead of using an anchor bag, there are two pipes that secure into the lake bottom and fasten to the pump handle.
The LAKEMAID® is manufactured by Lake Restoration, Inc. in Rogers, MN. View the LAKEMAID® video on their website or call them for details.
About Lake Restoration
Lake Restoration, located in Rogers, MN, has been restoring the beauty of lakes and ponds since 1977. Every year thousands of satisfied customers use Lake Restoration products to keep their ponds, lakes and other water features in pristine condition. Lake Restoration offers a complete line of exclusive, simple, do-it-yourself solutions to treat a variety of pond weed maladies. To learn more about controlling pond and lake weeds and products and services used to accomplish this, visit LakeRestoration.com.