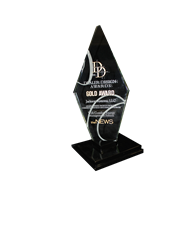 We are honored again to be recognized by our contractor community. Our team is truly focused on developing products that are simple, while still delivering a high level of comfort
Indianapolis, IN (PRWEB) July 30, 2014
Jackson Systems was recognized for excellence in product design in the 11th annual Dealer Design Awards Program sponsored by The Air Conditioning Heating & Refrigeration News magazine. An independent panel of HVAC contractors served as judges in the contest that had 92 entries. The company's Web Comfort™ Energy Management System was the Gold winner in the Commercial Controls category.
News publisher Mike Murphy stated, "These awards give us a unique opportunity to recognize the outstanding research and development efforts that go into many products serving the HVACR industry and the awards issue gives our readers an opportunity to read about innovative installation and service solutions."
"We are honored again to be recognized by our contractor community. Our team is truly focused on developing products that are simple, while still delivering a high level of comfort, "stated Tom Jackson, CEO Jackson Systems, LLC.
Winning entries in the Dealer Design Awards were featured in the July 21, 2014 issue of The ACHR News, which is distributed nationally to over 33,000 HVACR contractors, wholesalers and other industry professionals. For more information on the Dealer Design Awards, visit http://www.achrnews.com. For more information on the Web Comfort Energy Management System, visit http://www.webcomfort.com.
###
Jackson Systems is a leading direct-to-contractor HVAC controls manufacturer and distributor. We produce innovative products for the commercial and residential markets. Ease of installation is built into every design, providing the most contractor-friendly products in the industry. Strong technical support and free same-day shipping are the cornerstone of our excellent client service. Jackson Systems is "Controls Done Right."