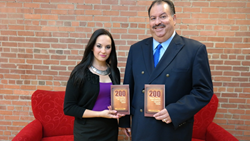 "I know that Jackie's book can make a significant difference in people's lives if they use the strategies and techniques that she shares."
Aurora, Illinois (PRWEB) July 29, 2014
In an effort to empower the local Latina community with the tools needed to succeed in business, Cruz Investments & Wealth Management is providing 100 copies of the book 200 Consejos Poderosos Para Alcanzar el Exito en Los Negocios by Jacqueline Camacho-Ruiz to various Aurora nonprofit organizations and businesses.
The book is the Spanish-language version of Latina entrepreneur Camacho-Ruiz's The Little Book of Business Secrets That Work!, which features 200 how-to's every business professional should know on topics such as launching a business, sales, marketing, customer retention, and motivation. This information is tailored for Latina businesses, which, according to a 2013 Nielsen report entitled "Latina Power Shift," rose 46% from 2002 to 2007, a growth faster than that of Latino firms (33%) and total female businesses (20%). According to the Center for American Progress, revenue for Latina-owned businesses grows about 9.5% each year. Cruz Investments & Wealth Management hopes to encourage the continued growth of these businesses.
"I have served on 12 boards of nonprofit organizations in the area and this is my community. I've been blessed in my own business and you have to give back," said Rey Cruz, owner of Cruz Investments. "I know that Jackie's book can make a significant difference in people's lives if they use the strategies and techniques that she shares." Cruz, a Certified Financial Planner (CFP), has more than 28 years of experience helping businesses and individuals establish strong financial futures.
Recipients of Cruz Investments & Wealth Management's donation include Mutual Ground, one of the largest and oldest domestic violence shelters in Illinois; the Aurora YWCA, which seeks to eliminate racism and empower women and youth through programs that educate and inspire; the Puerto Rican Council, whose mission is to encourage and promote Puerto Rican heritage through cultural and civic activities; and Sweet 15 Magazine, Illinois' quinceañera magazine.
For more information about Jacqueline Camacho-Ruiz's books and upcoming events, visit http://www.jjrmarketing.com.
About Cruz Investments and Wealth Management
Located in Aurora, IL, Cruz Investments & Wealth Management specializes in income, retirement, charitable, and estate planning; disciplined stock market investments; portfolio risk analysis; and distribution planning for IRAs, 401(k)s, profit sharing, TSAs, ESOPs, and other qualified plans. For more information, visit their website at http://www.reycruz.com or call (630) 897-0333, x 233.
# # #