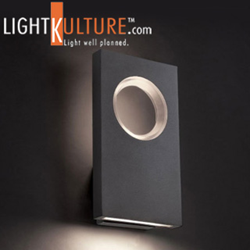 Modern Forms by WAC has been one of our strongest growth brands over the past 2 years.
New York, New York (PRWEB) July 30, 2014
LightKulture.com is pleased to offer Modern Forms by WAC, exclusively to Registered Members. "We are very pleased to offer this innovative approach to selling Modern Forms. With the competitive nature of e-commerce, we must find ways to bring innovative lighting technology and style to the market, while honoring our commitment to the brands we sell," noted Susan Inderbinen, President of LightKulture.com. There are two levels of registration to accommodate members. All guests can register at LightKulture.com to gain full access to Modern Forms check-out. Trade quotations to industry professionals for volume prices are also available. Registration is quick and easy, and provides instant access to all Modern Forms details.
The initial offering of 26 unique modern LED lighting families and over 160 styles has grown over the last 2 years that the brand has been on the market. Modern Forms outdoor LED lighting, and LED vanity lights are engineered to the finest details.The assortment is designed to compliment a diverse range of architectural interior and exterior spaces.The new 2014 outdoor LED fixtures range from classic interpretations with LED technology, such as the Modern Forms Castleton, Muse and Rain, to more artistic and sophisticated styles such as the Modern Forms Aries, Rhythm, Twist and Void. All Modern Forms LED outdoor lights are powder coated with marine grade, stainless steel construction. Modern forms offers high tech, single spot, multi chip LED sources that project narrow beams of light for ambient illumination and wall grazing, for interior or exterior applications. The clean, minimalist architectural designs are in proper scale for interior and exterior applications, both residentially and commercially.
For more information go to Modern Forms - http://www.lightkulture.com/brands/Modern-Forms-by-WAC.html.
Modern Forms by WAC, Contemporary Outdoor LED Lighting Now Available Exclusively To Registered Members of LightKulture.com
"Modern Forms by WAC has been one of our strongest growth brands over the past 2 years. We are back on-line with this brand in a unique way. Our guest become customers by simply filling out a brief registration form. Once completed, customers have exclusive access to the Modern Forms details under the Members Exclusive drop down tab. In addition, members of the trade and large volume users can register with our Trade Partner Program. We have many designers, builders and contractors who require larger quantities for their projects who we can partner with based on commercial quantities. As more consumers and professionals become aware of the energy saving benefits of LED lighting, demand for this product category has grown rapidly. Modern Forms utilizes proprietary technology, engineered to deliver consistent quality lumen output and high color rendering (CRI). The small size and miniaturized state of the art components, enables a multitude of new design possibilities. The complete 2014 collection is spot -on for designers, builders and homeowners," noted Susan.
About LightKulture.com:
At LightKulture.com, our mission is to offer the finest energy efficient contemporary lighting and light fixtures from around the world. We have assembled an exciting collection of the industries most innovative decorative and architectural lighting.We are proud to offer lighting solutions for both your home and work-life environments. Simplicity is design is complicated, function makes it last. Be inspired by our range of essential designs from well respected American and European manufacturers. In today's world, energy efficient lighting is as important as eco-friendly or green lighting fixtures, such as LED or CFL lighting. We offer the very best energy efficient lighting and light fixtures, both high value LED lighting fixtures and CFL lighting fixtures in modern and contemporary styles that provide quality, innovation and authenticity.
LightKulture
http://www.lightkulture.com/
Email. sales[AT]lightkulture.com
Tel. 954-330-0422