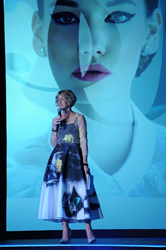 Los Angeles, CA (PRWEB) July 29, 2014
Woodbury University announced today that its Fashion Design program has been ranked 7th among the Top 10 fashion schools in the West (http://www.fashion-schools.org/articles/top-20-fashion-design-schools-west-2014) and 51st among the Top 75 schools in the nation (http://www.fashion-schools.org/articles/2014-top-75-fashion-design-schools-us) by Fashion-Schools.org, an online resource for those who aspire a career in the fashion industry. In Fashion Marketing, Woodbury placed 15th among the nation's Top 20 fashion marketing programs (http://www.fashion-schools.org/articles/2014-top-20-fashion-marketing-schools-us).
Woodbury's School of Media, Culture & Design offers a BFA in Fashion Design and an interdisciplinary Design Foundation program. Woodbury's School of Business offers a unique Bachelor of Business Administration (BBA) in Fashion Marketing, which extends beyond design and merchandising to encompass such diverse paths as fashion director, fashion forecaster, social media marketer, brand specialist and fashion journalist, among others.
In preparing the 2014 rankings, Fashion-Schools.org considered hundreds of schools in the U.S. that offered programs geared toward fashion design, fashion merchandising, fashion marketing, retailing and related degrees. The goal is to enable students to make an informed decision about the school they choose to attend and the program they pursue. Among the selection criteria: academic reputation; admission selectivity; depth and breadth of the program and faculty; value as it relates to tuition and indebtedness; and geographic location. New for 2014, the site incorporated school surveys into the information gathering and evaluation process.
"As the former home of Cosmopolitan editor Helen Gurley Brown, Woodbury is carrying on a proud tradition of leadership in fashion design," said Kathryn Hagen, Chair, Woodbury University Fashion Design Department. "Our commitment is to provide our students with state-of-the-art tools and state-of-the-industry talent, so they can begin to create and explore their own aesthetic, even before they graduate. We're key players in the vibrant Southern California fashion scene, and in Hollywood, with our special expertise in costume design and fabrication."
"Our Fashion Marketing program enables our students to be storytellers who convey a message about the brands they represent," said Wendy Bendoni, chair of the Fashion Marketing program in the School of Business. "Our program prepares students for the new digital age by enabling them to market fashion through many channels -- including social media, eCommerce sites, blogs and so on -- television, magazines, and retail outlets. The program specializes in digital marketing and welcomes new courses that focus on the needs of the ever-changing fashion industry: fashion law, marketing fashion online, futurists, ecommerce, digital styling. We specialize in the business of fashion."
Accredited by the National Association of Schools of Art and Design (NASAD) and the Western Association of Schools and Colleges (WASC), Fashion Department program highlights include the annual Woodbury Fashion Show (open to sophomores, juniors, and seniors), access to the Fashion Study Collection (more than 6,000 pieces, some dating back to the early 1800s), local lectures, museums, galleries, and exhibitions exploring a variety of topics including social and cultural issues, and Summer Study Abroad experiences.
The Fashion Marketing program is among the select few such programs to receive accreditation from the AACSB (Association to Advance Collegiate Schools of Business) and is also accredited by Western Association of Schools and Colleges (WASC) and Association of Collegiate Business Schools and Programs (ACBSP).
About Woodbury University
Founded in 1884, Woodbury University is one of the oldest institutions of higher education in Southern California. Woodbury offers bachelor's degrees from the School of Architecture, School of Business, School of Media, Culture & Design, and Institute of Transdisciplinary Studies, along with an MBA program, Master of Architecture (MArch), Master of Science in Architecture (MSArch), and Master of Organizational Leadership. The San Diego campus offers Bachelor of Architecture, Master of Real Estate Development for Architects (MRED), and Master of Science in Architecture, Landscape, and Urbanism degrees. Visit http://www.woodbury.edu for more information, and Reflections on Excellence, a twice-monthly blog written by Woodbury University President Luis Maria R. Calingo, Ph.D.