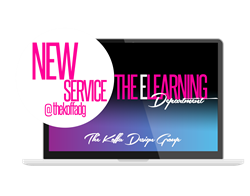 "This is an exciting time for companies of all sizes to look into converting their training methods and utilizing online learning in their organization."
Pasadena,Ca (PRWEB) July 30, 2014
The Koffa Design Group unveiled its new eLearning Design Department. The goal of the department is to provide creative options for businesses that would like to convert their training to eLearning courses. Similar to traditional training methods used in human resources and management, the Koffa Design Group has created services that will help any organization create the following:

Create strategies to streamline training and development.
Increase productivity and lower annual training and development cost.
Create fun and engaging approaches to training staff and management.
Provide assistance to track success linked to the organization's vision, mission, and goals.
The eLearning Design Department is staffed with content writers, instructional designers, graphic designers, voice over actors, and more. ELearning design services include but are not limited to:
Company branded training PowerPoint's
Online course development
Video course development: Animated videos and instructor lead videos
On location or studio filming for personalized educational videos
Questions and test banks for training and development
Training tools and learning resource blog development
"With the use of today's technology, organizational training and development tools can be created to help further engage learners while lowering long term training cost for a business," said Koffajuah Toeque-Slyusar M.A.Ed, Owner and Director of Education and Training, at The Koffa Design Group. "This is an exciting time for companies of all sizes to look into converting their training methods and utilizing online learning in their organization."
The Koffa Design Group has helped organizations development the following training tools:

New Hire Training
Product Training: Food, Cosmetics, Fashion, Shoes
Customer Service Training
Sales Training
Medical Procedural Training Videos and Training Guides
Retail POS Training
House Keeping Training
Test Banks
Skill Building Training
For a consultation or appointment with an account rep, emails can be sent to projects(at)thekoffadg(dot)com
About The Koffa Design Group
The Koffa Design Group is a design studio that offers creative educational services in addition to its fashion courses that teach topics on fashion design and fashion business and practices. Located in Pasadena, CA, clients can receive an array of services that include eLearning design, video products, curriculum development and fashion education. Learn more about The Koffa Design Group at http://www.thekoffadg.com.