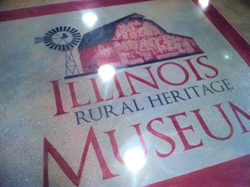 "Water is a lot easier to bring on site and does not come with the high price and storage challenges that flammable solvents have." says Mark O'Brien of ME-Crete. "The learning curve for the Tru Tint was gentle as well."
Morris, IL (PRWEB) July 29, 2014
The "green" movement that transcends all trade industries has had some very positive effects on the decorative concrete industry as well. Floor polishing is really flourishing as a decorative and durable solution instead of carpet, wood or tile. In many cases, special concrete dyes are used in the process to provide either subtle or rich color to the surface. The end result often is a newly colored, ultra-durable surface. The concrete polishing process involves the removal of existing floor covering, such as tile, carpet, wood, etc., and then grinding the underlying concrete surface down to the desired look. This desired look may dictate that there be very little grinding, which leaves you with a plain surface reminiscent of the original concrete. Choosing a heavy grind will expose the various aggregates within the concrete providing more of a terrazzo look. Polished concrete is a very green, sustainable surface and offers great long term cost savings. If the existing concrete is in good shape and not in need of grinding, these same dyes are used to color the plain concrete giving it an entirely new look. The dyes mentioned earlier are traditionally very potent colored powders that can only be dissolved by equally potent solvents, such as acetone. They are then sprayed onto the surface by qualified installers with the proper breathing apparatus. This can be quite dangerous in enclosed spaces, such as basements and usually requires vacating the premises during the process.
Tru Tint Dye is a departure from the stringent needs of those dyes. Tru Tint is a small amount of concentrated liquid dye that is dissolved into water instead of solvent. Once dry, it is every bit as durable as its solvent counterparts. "Water is a lot easier to bring on site and does not come with the high price and storage challenges that flammable solvents have," says Mark O Brien of Me-Crete. "The learning curve for the Tru Tint was gentle as well."
Being that water is the carrier, the dyes do take a little longer to soak into the floor. This usually proves to be an advantage because the color is far more forgiving if there are any mistakes. Traditional dyes dry in about 5 seconds so they leave little room for error. That is just another plus for going green!