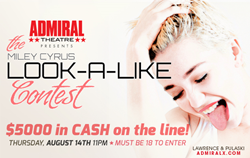 Chicago, IL (PRWEB) July 29, 2014
The Admiral Theatre Gentlemen's Club is supporting AMNESTY INTERNATIONAL on August 14th by holding a "Sexy Miley Cyrus Look-A-like Contest" during her visit to the Windy City. With all the provocative controversy that surrounds the young ingénue, one would be surprised to find that Miss Cyrus has been named one of the top twenty most charitable celebs by DoSomething.org two years running. In honor of Miley's dedication, the Admiral has chosen to donate a portion of the proceeds from the contest to one of her favorite charities, Amnesty International. An offer to be a celebrity judge has been extended to Miss Cyrus, although no response has been received. The winners of the $5,000 in cash prizes will be determined by a panel of local celebrity judges, which will be announced closer to the date of the event. Contestants can register to compete in this high profile contest by calling (773) 478-8263 or email michael(at)admiralx(dot)com.
This isn't the first Look-A-like Contest for the Admiral. You may recall the international media coverage received for the clubs Sarah Palin party in 2010. Nearly two dozen beautiful Palin impersonators from around the country provided the packed house with a sexy bikini contest, comical interviews on stage, and one finalist even demonstrated her plan for world peace with a very presidential striptease performance. The contest even got international acclaim by being parodied on Saturday Night Live by Chicago natives Tina Fey and Amy Pohler.
The contest will start at 11pm on Thursday, August 14th. If you are interested in competing in the contest, please call (773) 478-8263 or email michael(at)admiralx(dot)com. Admiral Theatre is located at 3940 West Lawrence, Chicago Illinois, 60625.