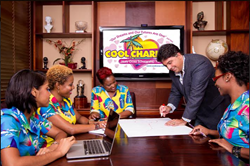 we still have too few children and adults who are empowered to access and assimilate information
(PRWEB) July 28, 2014
Executive Chairman of Cool Corp, Joseph John Issa, says in an interview in July 2014, that greater access to and use of information by Jamaican children and adults is critical to reducing the high illiteracy rate and increasing social and economic growth.
Issa's statement comes as new data in a report by the Ministry of Education entitled 'Caribbean Secondary Education Certificate (CSEC) Examination 2013: Analysis of the Public Schools' Performance, (Ministry of Education, 2013), show that as much as 60 per cent of students are failing to obtain the minimum five CSEC subjects with Mathematics and or English, which is the minimum requirement for matriculating to higher education and obtaining a decent entry-level job.
"When you have such a high percentage of students leaving secondary school in Jamaica without the matriculation requirement and cannot get a decent job, this means that there are challenges at that level in accessing, assimilating and articulating the relevant information.
"What it also means is that ultimately, the country will continue to be starved of the required level of educated workforce necessary to absorb greater levels of investment and increase production, thus stifling economic growth and hindering social mobility for a new generation of Jamaican citizens who, otherwise can contribute sustainably to the development of the country," says Executive Chairman of Cool Corp, Joseph John Issa.
Issa, who is a past student of the London School of Economics in the UK and a founder of charities to assist in the education of Jamaican and Caribbean children, says despite the best efforts of the authorities and most parents, "we still have too few children and adults who are empowered to access and assimilate information from a variety of sources particularly libraries which also provide internet access, and for a variety of uses that improve Jamaica's literacy rate and its capacity to grow."
The new data show that of the 35,278 children who sat the CSEC examinations, 21,166 or 60% failed to pass the minimum five subjects including Mathematics and or English.
The report shows that of those who passed five subjects with Mathematics and or English, only 7,181 had both, a slight increase compared with 2009; while 3,662 had English only and 408 Mathematics only, both representing significant reductions compared with 2009.
The figures also show that of the 16,195 students who passed 1-4 subjects, only 3,431 got four; 2,973, three; 2,959, two; 3,863, one; and 5,000 or 14%, none.
Another report published in July, entitled 'CSEC Ranking 2014' by Educate Jamaica Publications (Educate Jamaica Publications, 2014), shows that in 2012, more than 70 per cent of students, after five years of high school, did not reach the minimum matriculation requirement, and that in many of the 162 schools reviewed, significantly less than one per cent of students met this minimum standard.
Where library membership, circulation and computer usage are concerned, which are key indicators of access to and use of information, an email response from the Director General of the Jamaica Library Service (JLS), Karen Barton, shows that it oversees 928 school libraries, 13 main public libraries, 110 branches and 10 mobile libraries, and that in 2014, membership fell to 499,597 from 525,264 in 2013 and 548,899 in 2012. The information also shows that circulation of materials has been decreasing since 2012, while computer usage fell in 2013 and picked up in 2014.
"The decline in membership figures is mainly due to the periodic withdrawal of inactive members from the membership register," Barton explains in the email, noting that "a significant number of library users are not registered members due to the fact that users are able to access the services provided without being registered members."
She informs that "new efforts are being made to capture the data on unregistered users and to encourage these persons to become members… and a project now under early implementation entitled 'JLS: Using Technology to Empower Individuals and Communities for Development' will seek to, among other things, attract new members to the library through the use of technology."
Works Cited
Educate Jamaica Publications. (2014). CSEC Ranking 2014' by Educate Jamaica Publications. Educate Jamaica Publications. Retrieved from http://educatejamaica.org/index.php/user/view_document/4
Ministry of Education. (2013). Caribbean Secondary Education Certificate (CSEC) Examination 2013: Analysis of the Public Schools' Performance. Retrieved from http://www.moe.gov.jm/sites/default/files/2013%20CSEC%20Report_0.pdf