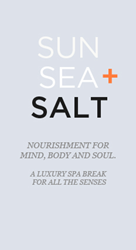 A more relaxed escape is hard to find.
(PRWEB UK) 29 July 2014
A rising trend among savvy travellers is the 'Detox Holiday' for those who are overworked and under-exposed to the sun and sea. According to TravelChannel.com, resorts and hotels are "answering our growing addiction to technology with detox holiday packages." Hunter Traveller is recommending Font Santa's Thermal spa located on the Mediterranean island of Mallorca as an ideal destination for those in search of wellness, needing to replenish and repair.
"If you're looking for a sleek spa retreat, a healthy kick-start, or just a slumber by the sea, a more relaxed escape (and vivid contrast to the bustle and buzz of the capital) is hard to find," says Laura Tennant, Destination Expert at Hunter Traveller.
Situated in the quieter part of Mallorca and beside the famous 'Flor de Sal' salt flats, Font Santa is a truly serene and health-conscious hotel in the heart of a protected nature reserve and boasts its own subterranean thermal springs that date back to the ancient Roman era.
Relaxation-seekers will find health-inducing spa services, including a number of exfoliating body wraps like the 90-minute toxin eliminating 'Las Salinas of Es Trenc' that combines mineral rich salt with seaweed to help eliminate toxins.
The health vibe carries through to the food. Skilled chefs prepare fresh tuna Carpaccio, grilled octopus, organic tomato and coriander salad, Iberian cured meats and rock fish paella to order. The qualities of the salts are on display once again, either served with warm olive bread and local oil, adding an aromatic note to cocktails and as delicate seasoning in main dishes.
Travellers looking for wellness escapes and nourishment for the mind, body and soul can find out more about this package and many others at http://www.huntertraveller.com.