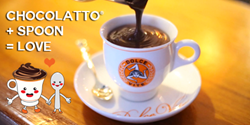 Dolce Vite Chocolatto® World's Best Thick Dark Italian Hot Chocolate Now Available at NYC's favorite cafe Brooklyn Roasting Company.
New York City, NY (PRWEB) July 31, 2014
Dolce Vite Chocolatto®, world's best thick Italian hot chocolate, will be available in New York's favorite specialty coffee roaster and DUMBO cafe Brooklyn Roasting Company in August. BRC is known for their commitment to Fair Trade coffee and was recently highlighted by the Associated Press.
Chocolatto® is the new sensation from Italy as the world's best thick "pudding-esque" Italian hot chocolate! A delicious highly popular Italian dessert descended from European Royalty. Prepared on a steam espresso machine or stovetop, it can be served hot during the winter months, or year-round with gelato or chilled. Scientists are releasing new studies daily on the myriad of health benefits of chocolate, as opposed to a few years ago thought as only a treat. Dolce Vite is proud to be part of this new health movement, and Chocolatto® is a leader. Americans often land in Italy, taste Italian hot chocolate, and return wishing it was available in the U.S., and now it is. Chocolatto® was highlighted in by renowned food critic Florence Fabricant in the New York Times, and NYC Mayor de Blasio tasted and loved Chocolatto®.
Dolce Vite Chocolatto®, Stay Forever Young.
About Dolce Vite® LLC
Dolce Vite® is based in Brooklyn, NY and founded by modern day flower child Christina Summers dressing 24/7 in head-to-toe bright orange topped with a floral headpiece, driving an orange polka dotted Mercedes. Dolce Vite® adheres to the principles of the clean-food diet, promoting No-GMOs, No preservatives, and No artificial ingredients. Christina's passion for food took her to Italy where she fell in love with Chocolatto® and made it her mission for everyone in America to enjoy the true thick hot chocolate experience… with a spoon.
Find out more at dolceviteforeveryoung.com and facebook.com/DrinkDolceVite and twitter.com/DrinkDolceVite and youtube.com/DolceViteNYC.
Chocolatto® Thick Creamy Dark Italian Hot Chocolate Recipes can be found at dolceviteforeveryoung.com/pages/chocolatto-recipes.
Restaurants and cafés interested in delighting their customers with Chocolatto®, the newest Italian sensation please email sales(at)dolceviteforeveryoung(dot)com or call 917-50-DOLCE (36523).