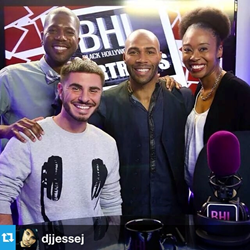 Hollywood, CA (PRWEB) July 30, 2014
Sex Symbol, Actor & Poet Omari Hardwick discusses his true feelings about working with Spike Lee and Tyler Perry during an interview on E!'s Maria Menounos' Black Hollywood Live Network. The 1st online network targeting African Americans.
"Spike Lee gave me the greatest reaction to the fact that I was this athlete meets artist, because I think he saw that I was different. I learned that often times Spike directs in a sense that he might just stare at you and look at you in a telepathic way of communicating. He wants you to know that you as an actor already know what you are doing, that's why he hired you. So, he gives you a lane to be as confident as you need to be and not come 2nd guessing yourself."
"Tyler Perry" tells incredible stories and has beautiful shots. Hats off to him. In addition to working with iconic directors Lee and Perry, Hardwick expresses his thoughts on working with some of today's hottest ladies in Hollywood and what he has learned from them. "You learn that women are smarter than us. I would say that the woman's ability to multi-task and to be maternal in instinct, it fosters a different approach to the character that makes sense as an actor."
Hollywood has been keeping the actor pretty busy. He currently is starring on both BET's break out hit "Being Mary Jane" and "Power" on the Starz Channel. When asked about working with the dynamic writing and directing team Mara Brock Akil and Salim Akil on "Being Mary Jane", Hardwick said "Mara sat me down and was like 'alright you're going to read the script, stop running from it' and I read it and I was so im-pressed. So I met with her and Salim at the Soho House on Sunset Boulevard and they both said to me this character will be someone that theirs bits of our fathers, bits of uncles and even folks that you don't know and this is an opportunity for you to make empathetic this character that is often not understood. "
Hardwick is no stranger to playing diverse characters, he explains what fans can expect of his character "Ghost" on Power (a wealthy New York Nightclub owner who doubles as a drug kingpin). "I think what we expect is something that, even with the likes of what Bryan Cranston brought to the world with Walter White and Tony Soprano played by James Gandolfini is different. I don't really know if we've ever seen a guy like this in the amalgamation of what this guy is. I happen to be the black actor who plays it, but I think any race of person playing this character would be something that would draw people to the television set."
Links to Omari Hardwick's appearance on Black Hollywood Live can be found at:
Youtube: https://www.youtube.com/watch?v=Gut-22p5BXg
Site: http://www.blackhollywoodlive.com/2014/07/25/omari-hardwick-interview-bhl-portraits/
ITunes: https://itunes.apple.com/us/podcast/portraits/id611663536?mt=2