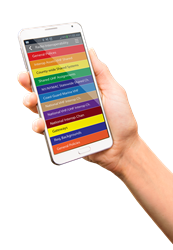 Guest Communications is an outstanding example of how a print-based company can rethink its products in order to deliver a mobile solution that is better, faster and easier to use.
KANSAS CITY, MO (PRWEB) July 29, 2014
Tornado, fire, bomb threat, operations failure – how people respond in these crisis situations is crucial. Now there's a new mobile app that puts critical information in the hands of those who need it immediately – even when cell service and power may not be available.
Guest Communications Corp., a Shawnee Mission, Kan.-based firm that's been supplying emergency preparedness guides to hospitals, schools and the like for nearly 30 years, is putting crisis information at users' fingertips with the release of its My-EOP app. The quick-reference mobile app was designed and developed by Kansas City, Mo.-based Engage Mobile Solutions, an award-winning mobile app and mobile software development company.
My-EOP, which stands for My Emergency Operations Plan, complements Guest Communications' printed preparedness reference guides while providing a huge advantage with the flexibility of mobile, says Jim Shappell, the firm's vice president of operations. With a simple click, a smartphone using the My-EOP app can provide almost instant information on how to handle emergency situations through quick-read customized tabs. For instance, in a medical emergency at school, teachers and staff could pull up CPR/first aid instructions with a simple finger swipe.
One main feature of the app is that it works without internet connectivity, Shappell says. Once users download it, they can use it from their device. Contact information (critical phone numbers, e-mail addresses, etc.,) are stored within the app, ensuring that all users have access to the same key contacts and that they have the most accurate, up-to-date data on hand once they download My-EOP. The app is available for iPhone and Android.
"The app mirrors our printed products," Shappell says, but the app provides advantages that the printed guides can't offer. "What My-EOP does for us that printed guides can't do is provide interactive features, like clickable links," he says, noting that users can click the "Contacts" list that stores key phone numbers or e-mail addresses for one-touch dialing/messaging to save time.
My-EOP corresponds to Guest Communications' print guides and is formatted in an easy, flip chart-like setup. The app can be customized for each client (like a medical center or a school district) with specific instructions on what to do in an emergency or crisis situation (fire emergency, severe weather, evacuations, hostage situations, lockdowns, etc.).
Another key advantage to the My-EOP app? Updates to a client's emergency preparedness plan can be ready in a matter of hours instead of weeks, Shappell says. Because printed products take longer to be published and distributed, having the My-EOP app in addition to printed guides offers clients the most up-to-date resource available.
Plus, Shappell believes the app will boost overall sales of preparedness materials. "I anticipate it will increase our business on the printed guides as well as the digital app because we're now providing the whole package," he says. "You give us the info, and we can turn it into a full-color printed product with the app as the companion piece."
Guest Communications has an in-house developer, but the firm sought out Engage Mobile Solutions for help in creating and rolling out the app quickly and effectively.
"Engage Mobile was very professional," Shappell says. "One of the things I liked about their approach is that you can view what's happening and have a picture into what's being developed at that time. If you think of an additional feature you need, that afternoon you can see it on the board and see who's working on it."
"Engage Mobile was very open, and when working with developers that's key," he says.
"Helping our clients achieve their goals in the digital and mobile world is what drives us at Engage Mobile," says president Matthew Barksdale. "Guest Communications is an outstanding example of how a print-based company can rethink its products in order to deliver a mobile solution that is better, faster and easier to use."
About Engage Mobile Solutions
Engage Mobile Solutions is an award-winning mobile app and mobile software development company with a focus on mobile strategy and mobile marketing. Based in Kansas City, Mo., the firm helps companies leverage mobile technology and drive profitability through increasing revenue, decreasing costs, and managing risk. The company was named one of the "Most Promising Enterprise Mobility Companies in the United states" by CIO Review, chosen as one of the "Top Companies in Kansas City With Under 25 Employees" by Thinking Bigger Business Media, and has been selected a finalist for the 2014 Appy Awards by MediaPost Communications. For more information about Engage Mobile Solutions, visit http://www.engagemobile.com or contact Matthew Barksdale at mbarksdale(at)engagemobile(dot)com.
About Guest Communications Corporation
Guest Communications Corporation is a publishing company specializing in custom quick-reference information directories in a tiered (flip-chart) format. All of our products are made in the United States of America from the best materials available. We maintain this standard to ensure you receive a quality product that will last for many years. With our three-year "Plain Language Guarantee" you can rest assured that you will be satisfied. For more information about Guest Communications, visit http://www.gcckc.com.