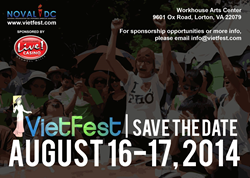 We are excited to have our third annual Vietnamese Heritage Festival at the remarkable Workhouse Arts Center. It will definitely allow us to share the beauty that is the Vietnamese culture both with the people of Lorton and the Greater DC community.
Lorton, VA (PRWEB) August 11, 2014
Where:
Workhouse Arts Center
9601 Ox Road
Lorton, VA 22079
Date and Time:
Saturday, August 16: 10am-10:00pm
Sunday, August 17: 11am-6:00pm
Admission:
$7 General Admission One Day
$10 General Admission Two Day
Free for children under age 5
Free for wearing full Vietnamese dress (áo dài)
VietFest, the third annual Vietnamese Heritage Festival hosted by the DC chapter of the National Organization for Vietnamese American Leadership, will take place on August 16th and 17th at the Workhouse Arts Center in Lorton, Virginia. VietFest 2014 will be bigger and better with dynamic attractions, competitions and entertainment for the whole family.
At this year's "Past, Present, and Future" themed event, VietFest will celebrate its rich history and vibrant culture through art, food, history and entertainment. If you are looking for a day of food, fun and activities with your friends and family, come out to VietFest and immerse yourself in the traditions of Vietnam. This year's exciting highlights include the Miss VietFest Pageant, VietFest's CelebrAsian Talent Hour, Mr. VietFest competition, the popular Pho and Crawfish Eating Competitions as well as the newly added Vietnamese Heritage Wall, highlighting generations of Vietnamese-American families. Also returning this year is the Little Vietnam Village culture, history and art center, the Lanterns by Night decoration, the Amazing Lion Dance, and Culture Parade. In addition, the festival will be raffling off a brand new 2014 Honda Accord LX. Raffle tickets are on sale for $10 and the live drawing will be held on Sunday, August 17th.
VietFest will be a pleasure for all the senses. Wander the festival grounds to enjoy the Vietnamese hospitality and the delicious authentic Vietnamese cuisines along with cuisines from many other Asian countries. There will be opportunities to actively participate and win prizes in one of the many competitions such as the Ping Pong Tournament and the Chinese Chess Masters. There will also be fun games and activities for children, including a bounce house at the Kid's Zone. Afterwards, come to the main stage to listen to traditional and modern Vietnamese music and instrumental performances. Also, do not miss out on the Miss VietFest Pageant. Watch beautiful young ladies vie for the crown in their elegant traditional dresses. At the very end of each night, a sea of lanterns will light up the festival grounds, enhancing the atmosphere.
If you would like to volunteer, be featured as a sponsor, or provide goods or services as a vendor, please e-mail us at info(at)vietfest(dot)com. For general information or advance ticket purchases, visit us at our official VietFest website.
About NOVAL-DC
The National Organization for Vietnamese American Leadership of Greater Washington (NOVAL-DC) is a service-based nonprofit 501(c)(3) organization with a mission to develop sustainable leadership among Vietnamese Americans and to preserve and promote the Vietnamese cultural heritage. We are comprised of professionals and college students who are passionate and committed towards advancing the economic, social and political well-being of the Vietnamese American community.