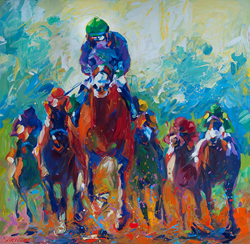 This year's exhibition features truly extraordinary, one-of-a-kind equine art.
Saratoga, NY (PRWEB) July 29, 2014
Gideon Putnam Gallery, a leading equine fine art and sculpture gallery, to debut new collection of world-class "art with horse-power" in the Blue Room of the Gideon Putnam Resort in Saratoga, N.Y., from Aug. 1 – 30, 2014.
The impressive body of work includes over 35 original oils, acrylics and sculptures in different styles and sizes from renowned equine artists Shawn Faust, Lisa Palombo, Robert Hooke and Ellen Gavin. Select, limited edition prints will also available. The opening artists' reception is being held Saturday, Aug. 2 from 5-8pm.
"This year's exhibition features some truly extraordinary, one-of-a-kind equine art from realism to impressionism and three-dimensional sculptures," stated Shawn Faust, operator and artist of the Gideon Putnam Gallery. "For example, we are showcasing Lisa Palombo's new American Impressionist-style pieces which are a 'must see' with their rich colors and bold, loose brush strokes."
About the Artists
Shawn Faust – Fast becoming a leading "thoroughbred" in the equine art world. His realism with contemporary flair, oil on canvas paintings accurately capture the anatomy and personality of horse and jockeys.
Lisa Palombo – Introducing a new equine series of impressionistic-style, acrylic on canvas paintings.
Robert Hooke – An internationally acclaimed and collected sculptor who produces elegant equine pieces primarily in bronze.
Ellen Gavin – Developed a passion and following around her original, oil on canvas equine paintings.
About Gideon Putnam Gallery
Gideon Putnam Gallery, located in the Blue Room within the Gideon Putnam Resort in Saratoga, N.Y., showcases world-renown equine fine artists and sculptures. The gallery features one-of-a-kind work in various mediums and sizes, including oil on canvas, acrylic on canvas and sculptures in bronze, steel and metal. For more information, call 302-547-3517.