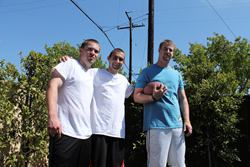 Where you look affects how you feel.
Los Angeles, CA (PRWEB) July 29, 2014
Into the Heart of Addiction writer, Martha Lockie, interviewed Deborah Sweet, Psy.D. about her psychology practice, how she became passionate about healing people suffering from trauma and the new technique, Brainspotting.
Deborah practices talk therapy in addition to a variety of other modalities. "There are different ways of accessing material for different people." She explains the key difference in talk therapy and BSP centers in the brain.
Into the Heart of Addiction is the New Life House recovery community resource for parents and families of substance abusing youth. Writers are recovered addicts and alcoholics, their parents and professionals, who supply the public with an in depth look at the reality of substance abuse and the family system. New Life House believes that change and recovery occur as a result of living in a peer-centered community where young people and parents are held accountable.
"This is a process that cannot be side stepped; being accountable is essential and ultimately the saving grace for a drug addict," says New Life CEO Mike Joly.
To read the entire article click here.