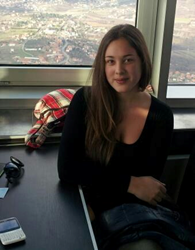 I am sure that exchange program will give me a great benefit in all aspects of my life
Babylon, NY (PRWEB) July 29, 2014
International Student Exchange (ISE) announced that Branka Radovanovic from the Montenegro won the 2014-2015 Jordan Nagler Memorial Scholarship.
ISE offers the Jordan Nagler Memorial Scholarship to their incoming exchange students. The scholarship is in honor of Jordan Nagler who was the Executive Director of ISE from 2003 until his passing in October of 2008. The criteria for this scholarship selection are academic excellence and a diligent work ethic.
ISE is pleased to announce Branka Radovanovic from the Montenegro is this year's recipient of the Jordan Nagler Memorial Scholarship. In selecting the scholarship recipient, ISE looks for a student who is well-rounded – not just having excellent grades, but also being interested and involved in a variety of activities.
Branka feels honored that she was chosen for this unique experience to come to the US and study for a year. She looks forward to learning the US culture while facing challenges.
"I am sure that exchange program will give me a great benefit in all aspects of my life and that participating at the program will bring the best of me since I am highly motivated," stated Branka.
Branka likes to give back to her community in Montenegro through organizing fundraisers and participating in fashion shows. She reads books and loves watching movies with her family. Although she will miss her home town, Branka understands the opportunity she has been given.
" . . . I know that a lot of things are more developed in America than in Montenegro, and I would like to learn about them so I can improve them in my country when I get back," explained Branka.
About International Student Exchange:
ISE was founded in 1982. It is a non-profit organization dedicated to bringing people of the world closer together through student exchange and intercultural education.
Based on the materials submitted by ISE and reviewed by the Council on Standards for International Educational Travel (CSIET), an independent national educational organization founded in 1984, ISE has been granted a listing every year. Indicative of its high level of professionalism and respect within the foreign exchange industry, ISE is designated by the Department of State as an official sponsor of the Exchange Visitor Program. The company's information is available at http://www.iseusa.org.