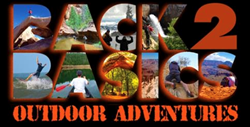 And eventually I'd like to go back to school in Flagstaff to finish my degree in Environmental Science.
Flagstaff, AZ (PRWEB) July 29, 2014
Current Back2Basics long-term drug rehab resident Jon B. (age 22) was prescribed pain medication post foot surgery during his first six months of sobriety.
This was Jon's third time in foot surgery – twice on one foot, once on the other– which was how he became addicted to prescription drugs. "I broke my foot a year ago and was prescribed drugs that I didn't take properly."
Back2Basics was recommended to Jon by a friend from home who'd recently completed the program. The six-month long residential program for young men is centered around wilderness therapy called Outdoor Adventures – intensive hiking, camping, kayaking, wilderness survival training, snowboarding, surfing, white water rafting and more – aimed to challenge residents physically and mentally, in addition to traditional therapy and counseling.
Upon landing in Flagstaff, AZ for drug addiction treatment, Jon had hopes to get back in shape. "I was a runner and did gymnastics," he said. "In addition to my sobriety, I wanted to focus on my physical health, but after the first Outdoor Adventures trip, my foot was still bothering me."
Jon endured a third foot surgery, temporary leave from all Outdoor Adventures trips and faced the option of taking prescription drugs at an early point in his sobriety.
"I wasn't looking forward to having surgery for the third time," said Jon. "But I also worried about taking prescription drugs. I talked to a bunch of people in the sober community about whether or not it would count as a relapse."
Jon expressed his concerns with his surgeon who then prescribed the lowest dosage of pain medication. Back2Basics staff also supported Jon post-surgery.
"I handed all my meds over to the B2B staff who distributed and supervised my dosage," said Jon. "I stopped taking the prescription as soon as I could."
He also looked for natural forms of healing and rehabilitation such as meditation from the guidance of Back2Basics Primary Therapist Keelyn Riley. "Keelyn taught me that relaxing my muscles through meditation could help me recover."
Since Jon is still on crutches and hasn't been able to participate in Outdoor Adventures; he's taken on an in-house position as the Back2Basics Logistics Intern, assisting staff and residents research Outdoor Adventures trips, prepare and pack.
"As soon as I start walking again I'd like to get a part-time job hopefully relating to the outdoors," said Jon. "And eventually I'd like to go back to school in Flagstaff to finish my degree in Environmental Science."