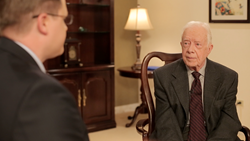 We're proud that our team is capable of working with anyone from assembly workers to former presidents. - Mark Smith, Creative Director for Absolute
Chicago, IL (PRWEB) July 31, 2014
Absolute Vision Productions, a Chicagoland-based media and production company, announced today their recent collaborations with Voice of America, featuring interviews with former US President Jimmy Carter. Created in conjunction with VoA correspondent Kane Farabaugh, the interview served as a jumping off point for perspectives and viewpoints from the former president and solidifies Absolute's reputation for live interviews and local Chicago media crew. An edited portion of the footage used for broadcast is available via the VoA and Absolute Vision websites.
This project served as a clear demonstration of Absolute's incredible versatility in location production environments. The same team and skills that were used to capture the former president are available for the same level of quality media production, whether for CEOs, project developers, corporate teams, or fast-turnaround convention interviews. Absolute captured four separate camera angles live during the interview, allowing for fast turnaround and redundant support for a once-in-a-lifetime opportunity. The interview focused on President Carter's new book, A Call to Action: Women, Religion, Violence, and Power, what the former president described as "the most serious, pervasive, and ignored violation of basic human rights" in the world.
With discussion led by Voice of America correspondent Kane Farabaugh, questions led to further explorations of Carter's work through the Carter Foundation, as well as his opinion and stances ranging a number of national and international geopolitical issues. Absolute's live and interview production team coordinated all aspects of the interview process and are unmatched in the midwest for both exceptional quality content, fast turnaround, and modern features including live steaming and straight-to-distribution media.
"It was an honor to have the opportunity to work with such a historic and philanthropic American," said Mark Smith, creative director for Absolute. "We're proud that our team is capable of working with anyone from assembly workers to former presidents."
Absolute Vision remains the preferred media partner for dozens of regional and national companies. Whether creating top-tier videography services for companies in the conference, convention, manufacturing, industrial, hospitality, and entertainment sectors, or drawing from a portfolio of work spanning dozens of industries and mediums, including animation, HD web content, product photography, and remote location production, Absolute is a trusted partner to Chicago's business community. For more information or to speak to a member of the Absolute team, email info(at)AbsoluteVisionProductions(dot)com.
About Absolute Vision Productions:
Absolute Vision Productions is a Chicago-based media and production company, and part of the Absolute Vision Media Inc. creative group. Whether for agency-style media, professional video production, local production crew, or general marketing and advertising, Absolute offers national-level experience with local connections and know-how for corporate, educational, commercial, and creative purposes. To learn more, visit http://www.AbsoluteVisionProductions.com.