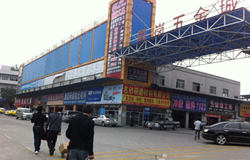 Zhengzhou, China (PRWEB) July 29, 2014
China maintained a stable economic trend in 2014. But abrasives industry has confronted with difficulties. On conditions that market shrinks and demand decreases, transformation of economic growth and make living have become the biggest concern of most abrasives proprietors.
China abrasives industry has achieved slow pick up and moderate growth last year. Will the trend continue? iAbrasive reporters paid a visit to Guangdong hardware tool market and learned about some information.
Market Trend: A Slump in Peak Season
Each year from March to May, Guangdong abrasives market welcomes its peak season. Seen from hardware tool market situation this year, abrasives trade is languished and there are few visitors. An abrasive seller told iAbrasive reporter, "It is difficult to maintain the sales volume of last year." Many distributors agreed that at present most outlets have little stock and they dared not to produce in case of overstock. While manufacturers can only produce to meet demand of regular customers. Only when customers place an order, dare they produce in bulk. A slump in peak season is overall abrasives market situation in Guangdong. As to when can the situation be changed or where can abrasives manufacturers find a breakthrough, no one has a answer. Of course they have their own understanding of this: Real Estate market in second and third-tier cities downturn has caused decreased demand for metal materials, which leads directly to abrasives product orders. A distributor said, "while housing price lowers down, abrasives industry will be impacted. We feel heavily pressured."
Deal: Quality First
Years earlier, abrasives product users were entangled with problems when choosing abrasives products: whether to buy cheaper goods or goods with better quality? However, things are different now. iAbrasive reporters have learned during visit that a majority of users prefer goods with better quality. Even if there is little difference in grinding effect, they would rather buy famous brand with guaranteed quality and reputation despite the expensive price.
In view of the change, abrasives manufacturers in Guangdong have been attaching more importance to quality. Stricter quality control has taken place of shoddy goods and new product R & D has become a significant task for all abrasives manufacturers. Many distributor revealed that at present, a lot of purchasers have become regular customers due to their product quality and durability.
Phenomenon: Bottle-neck Issue
Although abrasives industry is a basic industry, it cannot get rid of quick shuffling. Under pressure of raw material price and labor costs appreciate, profits become lower and enterprises are faced with huge living pressure, which appears harder in Guangdong.
During visit, many local distributors told iAbrasive reporters that famous brands barely has profits. On the contrary, small scale factories have high profit point. The reasons might be: almost every stores sell brand products and the price is same; while products of small factories have no distinct difference from famous brand, and the price is cheaper, so their profit point is higher.
Marketing: Risks in Single Pattern
Scan the two-dimension code with a smart phone and users are available to the nest buying procedure. The process is both easy and interesting, which makes marketing activities not simply a information transferring. Seen from market strategies in recent abrasives exhibition, advertising via two-dimension code is commonly used, but can abrasives dealers benefit from this?
iAbrasive reporters have learned that although everyone has a smart phone, not too many choose to scan the two-dimension code. So sales channel and promotion mode remain single. Most of the sellers still wait for customers or sell through acquaintances. Certainly a minority of companies and agents choose Alibaba and Taobao to do promotion. However, with more and more suppliers appearing on these platforms, sales revenue declines. Marketing pattern diversity remain a problem for Guangdong abrasive companies and distributors.
Employment: Labor Shortage
According to iAbrasive, most voices heard during visit has been labor shortage. The bosses said, "many youngsters want to work in offices that little are willing to do tough jobs in abrasives industry. Most workers in factory assembly line are around thirty and forty five years old, young workers are rare. A board of director in an abrasives company said, "Most college students have little idea about how to apply the knowledge they learned in school, they are ambitious but have little experience and practical ability. Whether his point is prejudice or not, it reflects the difficulties abrasives companies faced with in recruitment.
Since abrasives products are widely used in manufacturing industry, its depression may inevitably influence one of China domestic manufacturing bases—Guangdong. What can be done to solve the problem? iAbrasive holds that it calls for mutual efforts of the government and abrasives manufacturers in Guangdong province.
See the original article at: http://www.iabrasive.com/articles/abrasives-market-situation-analysis-in-guangdong
For more information about abrasives industry, please visit: http://www.iabrasive.com/articles.