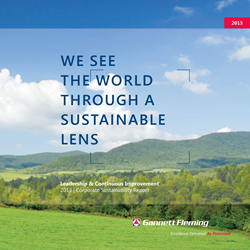 Our water and energy reductions were accomplished through continuous capital improvements and building repairs for our three corporate headquarters' buildings.
Harrisburg, PA (PRWEB) July 29, 2014
Gannett Fleming, Inc. has released its 2013 Corporate Sustainability Report: "We See the World through a Sustainable Lens" highlighting stories and metrics on how the company achieved sustainability goals one year ahead of schedule.
The 2,000-strong global infrastructure firm reduced water usage by 12 percent and energy usage by 7 percent at its corporate headquarters in Harrisburg, Pennsylvania. This reduction is in addition to usage reductions achieved since 2011.
"Our water and energy reductions were accomplished through continuous capital improvements and building repairs for our three corporate headquarters' buildings," said Mark Johnson, vice president and corporate sustainability officer. Johnson is based in the North Andover, Massachusetts office.
Improvements included renovating campus restrooms with water-reducing fixtures, installing a high-efficiency air-cooled chiller, replacing an aged air handling system with a more energy-efficient system, upgrading light ballasts, and rezoning the data center to control temperatures in the data center and surrounding areas.
"Sustainability is a process that we embrace day after day, year after year," said William M. Stout, P.E., chairman and CEO. "As we approach our 100th anniversary, we continually work to improve the triple bottom line for our clients and at our own facilities. Our vision is to be a driving force in improving our communities and sustaining our world."
Showcasing employee health and wellness, safety, continuing education, training, community service, and sustainable solutions for clients, the 2013 Corporate Sustainability Report can be viewed at http://www.gfnet.com/corporatesustainability.htm.
In 2013, the company added a new chapter in its sustainability program by pledging to train 100 employees throughout a three-year period to earn the Envision Sustainability Professional (ENV SP) credential. "The ENV SP credential is one more way that we are sharpening our skills to deliver excellence to our clients," Stout said.
A section of the 2013 report also profiles projects that incorporate sustainability and demonstrate how Gannett Fleming has responded to its clients' challenges with creative and sustainable solutions:

Developing architectural and engineering design improvements for a bus operations and maintenance facility operated by the Lehigh and Northampton Transportation Authority. The facility improvements incorporated water-conserving plumbing fixtures, natural light, zone temperatures to reduce utility costs and improve comfort, and high-efficiency lighting and mechanical systems.
Creating sustainability goals for the office in Valley Forge, Pennsylvania. During 2013, the firm tracked solid waste and water and energy use data to set a baseline against which Gannett Fleming will measure progress in reducing its environmental impacts.
"As leaders in sustainable infrastructure, we remain accountable to the goals we establish through this annual reporting process," Johnson said. "With this yearly audit, we continue to adjust and invest in our ongoing sustainability program. Whether it's reducing energy and water use in our built environment or training employees to boldly lead us into our next 100 years, we are excited to move our program forward with even higher goals and renewed enthusiasm," Johnson added.
Gannett Fleming ranks in the top 10 percent on Engineering News-Record's (ENR) Top 500 Design Firms list and is ranked #37 on ENR's Top 100 Green Design Firms list.
Gannett Fleming is a global infrastructure firm that provides planning, design, technology, and construction management services for a diverse range of markets and disciplines. With 2,000 employees, we have helped to shape infrastructure and improve communities through transportation, environmental, water, power, and facility-related projects in more than 65 countries. The firm embraces sustainability and innovation for all activities, finding the best solutions and the most efficient processes while being responsible stewards of the environment. Founded in 1915, Gannett Fleming had $313 million in revenues in 2013 and has more than 60 offices around the world. We are proud to be ISO 9001:2008 Certified.