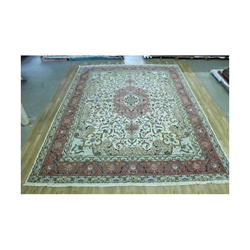 "Antique rugs in good condition easily sell for thousands of dollars. And the older a rug is the more value it has," Daryoushfar explained.
Charlotte, North Carolina (PRWEB) July 30, 2014
Persian rugs are not like new cars. They don't lose value as soon as you take them home. In fact, quality Persian rugs have long been considered one of the best investment options because they easily last for decades and age adds to their value.
"All Oriental rugs made with authentic materials and handmade crafting go up in value if kept in good condition," said Ellie Daryoushfar, co-owner of Magic Rugs Inc. that sells authentic Oriental rugs at http://adminrugs.com online.
The long term value of Persian rugs arises from the fact that they are all finely crafted and required hundreds and sometimes thousands of hours of labor. They are considered classic choices for luxury home décor. Their handmade, natural fiber quality makes them increasingly special in a world of machine-made and synthetic factory goods.
"Oriental rugs are available from many Asian regions, but those made in Iran are one of the best investment options. Quality Persian rugs gain value the most," Daryoushfar explained.
For people who want to get the most long term value from their Oriental rug, Daryoushfar selected three examples to showcase traits of quality Persian rugs that make them a stylish investment.
Example 1
A Persian rug does not have to be an antique to have classic style and long term resale value. New rugs made in Iran or those that are only a few years old still retain and even gain value as the years go by.
An example of a newly-made quality Persian rug from the Magic Rugs Inc. inventory is the silk Tabriz. Silk is the most valuable material, which makes this rug one of the best investment options. It measures 9 feet 10 inches by 13 feet 4 inches and has 250 hand knots per inch. The traditional medallion design also adds to its long term value.
The high number of hand knots per inch on this example further adds to its quality.
"Generally higher knot counts mean more value, but a rug with a lower knot count if exquisitely made is still a good investment. Some designs do not need as many knots as others," Daryoushfar said.
Example 2
Antique Persian rugs are a major part of the market. Some people prefer the antiques for their aged look and history.
"Antique rugs in good condition easily sell for thousands of dollars and the older a rug is the more value it has," she explained.
The wool Persian Bakhtiari Isfahan offers a stunning example of how long antique Persian rugs will last. This rectangular burgundy rug is over 70 years old. Its measurements of 7 feet 1 inch by 10 feet put it in the large size category. Although Oriental rugs come in sizes large and small, larger ones are more prized in the marketplace.
"New and antique Persian rugs are often specifically named on people's property insurance because of their value," Daryoushfar added.
Example 3
Daryoushfar recommends that an investor should strive to get the best rug possible within his or her budget. This means looking at many rugs and assessing them for authenticity, condition and appeal to personal taste.
An excellent example of value can be seen in this rectangular Persian Ahar Heriz that measures 8 feet 7 inches by 12 feet 3 inches. With its classic allover design on a red background, it has 120 hand knots per inch and vegetable-dyed wool. Even at over 60 years old, it is in remarkable condition and a testament to the durability of quality Persian rugs.
About Magic Rugs Inc.
Located in Charlotte, North Carolina, Magic Rugs Inc. has been run by the Daryoushfar family for 15 years. This trusted source of Oriental and Persian rugs for every room and budget ships rugs worldwide. People can make an appointment to visit its showroom at 658 Griffith Road, Suite 119 by calling 704-763-111. Its web store http://adminrugs.com is available to U.S. and international shoppers and presents the company's entire inventory of Oriental rugs.