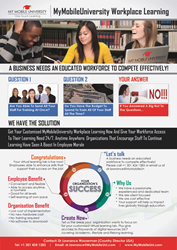 Education is what remains after one has forgotten what one has learned in school. Albert Einstein
Washington, D.C. USA Malaysia (PRWEB) July 31, 2014
My Mobile University's global life learning platform, mymobileuni.com, entered into strategic alliance with Dr. Lawrence Wasserman, Managing Director, Fortech International to promote, enhance, and provide content to http://www.mymobileuni.com its global health and medicine learning channels.
Learning Channel http://www.mymobileuni.net/mu3/health.php will include courses, e-books and other digital content suitable for all those who want to learn, re-skill or up-skill themselves in the health sector. Learning partners will provide video talks and lectures, skills training for medical professionals and nurses. Education software tools and exciting Mobile Heath Apps can be downloaded from mobile devices.
My Mobile University (MMU) constantly seeks global learning partners, establishes global alliances and Ambassadors, invite universities, NGOs', and public and private institutions to create awareness of MMU. To make available content to registered users in power human capital development on our platform and to reach out to both the local and international education providers as we aspire to create a knowledge based society and to promote lifelong learning.
Dr. Lawrence Wasserman has worked in the global health sector for over 20 years having served The World Health Organization at the Western Pacific Regional Office, Philippines and 15 Countries including Asia, Africa and Eastern Europe. Several years experience at the US Public Health Service and as consultant to UN Agencies and international donors. Lawrence commitment is to provide global access to the latest health innovations in medical technology, telemedicine and eHealth to the world wide community; public and private sector.
Those wanting to participate and support the initiative "Health Education for All" or for more information, please contact:
Dr Lawrence Wasserman
Country Director, USA
dr(dot)lawrence(at)mymobileuni(dot)com
| Tel:+1.301.424.1383 | Cell:+1.240.462.3471|
Skype: galaxy139 | Twitter: @Fortech139
LTT Communications Corporate HQ
Rani Wemel,
Co-Founder/COO
founders(at)MyMobileUni(dot)com
|Tel: +603.78777023|