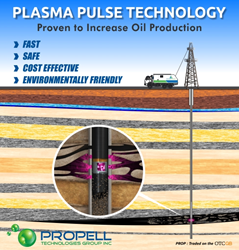 We would be hard pressed to find a more perfect fit than Mr. Hunter given his vast experience in the oil industry and look forward to his support as we launch our next generation tools to the industry as our new CTO
Houston, TX (PRWEB) July 29, 2014
Propell Technologies (OTCQB:PROP), the exclusive U.S. licensee of a plasma pulse well treatment for enhanced oil recovery (EOR) today announced the appointment of Trent Hunter as its Chief Technology Officer.
Mr. Hunter is the managing director of Sterling Enterprise Consulting Corporation since 1996, a private management, technical consulting and staffing company focused on the upstream oil and gas industry. Recently Mr. Hunter held the role of Global Business Development Manager for Blue Spark Energy Inc., a private technology based service company in the oil field industry from Nov 2011 to Oct 2013. From April 2010 to October 2011 Mr. Hunter held several senior roles with Neo Exploration Inc., a private energy development company. Mr. Hunter was the President, CEO and director of Hunter Energy Inc., a private junior oil and gas exploration and production company based in Calgary, Alberta from February 2006 to March 2009. During the period July 2004 to February 2006 Mr. Hunter was operations manager of Newalta Corporation. Early in his career Mr. Hunter was a wireline engineer working in numerous progressive roles for Schlumberger for nearly 10 years.
Mr. Hunter holds a Bachelor of Science (Engineering) degree from the University of Saskatchewan, is a Professional Engineer (Alberta), and holds a Masters of Business Administration from Erasmus University, Rotterdam, Netherlands.
"We would be hard pressed to find a more perfect fit than Mr. Hunter given his vast experience in the oil industry and look forward to his support as we launch our next generation tools to the industry as our new CTO," stated CEO John Huemoeller II.
"When I discovered what Propell had with its Plasma Pulse I immediately wanted to become involved and now I look forward to unveiling this world class technology," stated Trent Hunter.
For further updates and information on Propell Technologies please visit its corporate blog at blog.propell.com.
ABOUT PROPELL TECHNOLOGIES GROUP
Propell Technologies Group, Inc. (http://www.propell.com/), through its wholly owned subsidiary Novas Energy USA, is the exclusive U.S. licensee of the Plasma Pulse enhanced oil recovery (EOR) well treatment technology that improves production cost effectively without acidization, hydrofracking or other chemicals. It develops and commercializes treatment and stimulation of oil wells to meaningfully improve production and enhance the recovery of oil and gas in existing wells. For further information please visit http://www.propell.com.
SAFE HARBOR
This press release includes forward-looking statements of our current expectations and projections about future events. In some cases forward-looking statements can be identified by terminology such as "may," "should," "potential," "continue," "expects," "anticipates," "intends," "plans," "believes," and similar expressions. These statements are based upon current beliefs, expectations and assumptions and are subject to a number of risks and uncertainties, many of which are difficult to predict and include statements regarding the results derived from use of our technology. The forward-looking statements are subject to risks and uncertainties that could cause actual results to differ materially from those set forth or implied by any forward-looking statements. Important factors that could cause actual results to differ materially from those reflected in our forward-looking statements include, among others, the factors described in our on Form 10-K for the year ended December 31, 2013, and any other filings we may make with the SEC. The information in this press release is provided only as of the date written, and we undertake no obligation to update any forward-looking statements contained in this press release on account of new information, future events, or otherwise, except as required by law.
Contact:
Patrick Gaynes
patrick.gaynes@propell.com
(713) 766-5546