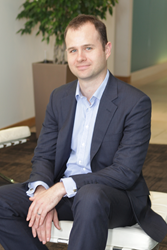 The power of a crowdsourced approach has yet to hit the mainstream, but I believe StockViews will lead the way in this field
New York, NY (PRWEB) July 29, 2014
StockViews today announced the appointment of Thomas Beevers to the role of CEO. Beevers was previously at Newton Investment Management, where he spent ten years as a fund manager of European Equities and managed funds in excess of $1 billion. Prior to that, he was a manager at PricewaterhouseCoopers. He graduated from Cambridge University in 1997 with a degree in Natural Sciences.
Beevers will draw on his experience in the industry to help develop StockViews into the leading community for crowdsourced equity research.
Brian Godoy, Head of Marketing at StockViews said "We are delighted to have Beevers on board. His extensive experience in the industry will be invaluable as we take the development of our community to the next stage".
Beevers said "This novel product has the potential to challenge the status quo in the industry today. As a customer of institutional research myself, I understand the inherent flaws in the current model and the degree of dissatisfaction among customers. The power of a crowdsourced approach has yet to hit the mainstream, but I believe StockViews will lead the way in this field. I look forward to drawing on my experience as a fund manager to create an outstanding experience for our members"
Beevers will dedicate part of his time to publishing a blog, "Wall Street and Beyond", which he will use as a platform to discuss issues with the investment industry today and potential solutions for the future. In the fall he will be touring university investment clubs across the U.S. to speak about his experience in the industry and discuss the potential of crowdsourced equity research.
Beevers will be based at StockViews headquarters in Canary Wharf in London