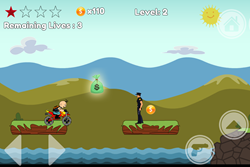 Money Rider (iOS game) and Dhoom Baby (Android game) is available on iTunes and Google play for free.
Chicago; Boston; San Francisco; Los Angles (PRWEB) July 30, 2014
Money Rider is the first game developed by Tezminds as a pilot project. With the initial satisfactory success, it has decided to further enhance it for latest iOS and Android versions, along with additional levels and new features. Tezminds is also planning to integrate social media; e.g., Facebook, Twitter, etc., so that its users can share their game status on social media. The Android version of Money Rider is called Dhoom Baby, which will also be converted into Money Rider in the new release of the game with the same features and capabilities as its iOS peer.
The first version of the games were developed by a 4-member team as a prototype, which is already live in apple iTunes and Google play. Now, with more than one thousand downloads on Google play and iTunes, the company has decided to further increase its headcount to 8 members from initial 4 members. Tezminds will be continuing graphic designers as external contractor to maximize creativity and freshness in the game for its users instead of going stereotype. Tezminds is currently planning to launch its new version in October, with tons of new additional levels and new features.