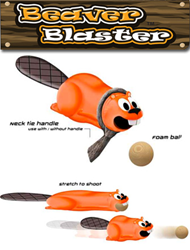 "This was a natural fit for our flying ammo," explained Raymond. "Plus, the Beaver elicits a laugh from the get-go."
Dallas, TX (PRWEB) July 30, 2014
Retailers reactions to the new Beaver Blaster and Orbball has been phenomenal. Marshmallow Fun Company has already received orders and is looking forward to seeing them hit the shelves for customers.
The Orbball which has been featured at trade shows throughout the year has the industry taking notice of the companies expanding product line. The Orbball is football that has a hollow core for extreme speed, accuracy, distance, aerodynamics plus easier to throw and make it curve. The Orbball will be available as the "Marshmallow Orbball", "Duck Commander Orbball" along with the "Ghostbusters Slime Ball" later this year.
Marshmallow Fun Companies Beaver Blaster is a different take on the Marshmallow Shooter. The Beaver Blaster shoots foam balls that look like wood approximately 20 to 30ft. The foam balls can be stored within the handle to make for fast and easy loading. Beaver Blaster that promises a "dam" good time. Simply pull its tail to launch a foam ball at the "dam" target included in the package. "This was a natural fit for our flying ammo," explained Raymond. "Plus, the Beaver elicits a laugh from the get-go."
Marshmallow Fun Company is continuing to rise to new levels with each new product. The award winning Marshmallow Shooters that shoot up to 30ft have been seen on Ellen, Parks and Recreation, Good Morning America, Hannah Montana, Jay Leno and Jimmy Fallon. They currently have private label licensing with Duck Commander, Ghostbusters, Dylan's Candy Bar, Its Sugar and FAO Schwartz. For more information about Marshmallow Fun Company's products, you can visit their website at http://www.marshmallowville.com or can call their home office at 214-741-1373.