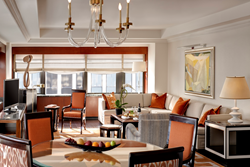 We wanted to celebrate the arrival of summer with great rates on some of our most exclusive suites in the Towers.
New York, NY (PRWEB) July 29, 2014
The New York Palace, a luxury Midtown hotel located in Manhattan, NY, launched Manhattan's Suite-est Summer Deal on their spacious Towers Corner Suites. The summer offer includes 30% off Towers Corner Suites, spectacular cityscape views and complete access to all the amenities available at The Towers.
The Towers feature premier rooms and suites in the New York Palace that were recently redesigned last fall. The newly renovated Towers include a new lobby, reception private elevators and specialty suites with picturesque skyline views and exquisite amenities and services including:

Multilingual concierge service
Maître d'Etage butler service
High-speed Internet access
Exclusive access to Rarities
24- hour room service
7,000 square feet of fitness facilities with view of St. Patrick's Cathedral
Six on-site dining areas –including Michel Richard's French Market café Pomme Palais
Full-service spa
And more
Throughout the summer, guests who reserve Towers Corner Suites receive 30% off the best available rates–featuring fully stocked cocktail bars, oversized marble bathrooms, Molton Brown bath amenities and over 1200 square feet of contemporary comfort.
"We wanted to celebrate the arrival of summer with great rates on some of our most exclusive suites in the Towers" said General Manager David Chase.
About The New York Palace
The New York Palace, a luxury midtown hotel on the corner of 50th & Madison, recently
completed a $140 million redesign in the fall of 2013. The renovation transformed all the rooms and suites at the property. Additional upgrades included new lobbies, specialty suites and six new restaurants and bars – two of which are helmed by renowned Chef Michel Richard. With 909 rooms and suites, The Palace is known for unparalleled splendor, spectacular views, spacious rooms and exquisite service. Located across the street from St. Patrick's Cathedral and only steps from Rockefeller Center – The Palace is conveniently located to some of Manhattan's most visited sights. The hotel's famed courtyard incorporates motifs from several 15th-century Italian cathedrals and has served as the entranceway to the historic Villard Mansion since 1882. The New York Palace gracefully blends the landmark Villard Mansion with a contemporary 55-story tower. Guests can reserve accommodations online at or contact reservations at 1-800-NY-PALACE (1-800-697-2522).