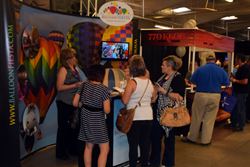 Knowing how to spot and communicate with different personalities is useful at tradeshows.
Albuquerque, New Mexico (PRWEB) July 31, 2014
Is your boss a wise old owl who makes well-thought out decisions based on facts? Does the new guy on your team strut into meetings like a peacock and make friends with everyone? EXHIB-IT! CEO DJ Heckes explained in a recent webinar that most people in the workplace have one of four personality types. The four personality types are symbolized by birds: Eagle, Peacock, Dove and Owl. Knowing how to spot and communicate with the different personalities is very useful for businesses exhibiting at tradeshows because it increases the chances of a sale. For example, people who fit into the Eagle personality type will get impatient if a sales person doesn't get straight to business, but a Peacock wants the sales person to socialize with them before talking business. Go to the EXHIB-IT! website to download a free infographic that differentiates each bird type and suggests how to communicate with them (click here for the download).
Information on spotting the personality type of a customer was only one of the items discussed in the July 22 webinar hosted by EXHIB-IT! and Marketing To Go titled "Notable Exhibiting Trends: Maximizing Your Visual & Verbal Communications." The webinar was the third in a series called "The NOISE Behind Business – How to Make Tradeshows Work."
The fourth, and final, webinar in the series, titled "Making the Most of Your Tradeshow Presence: How to Tie the Ribbon Around the Package," (Watch the trailer here.) will be held on October 21, 2014. Registration for this free webinar is currently open.
About EXHIB-IT!
EXHIB-IT! is a design and display company with over 23 years' experience in specializing in high quality trade show displays and trade show management services. Industry thought leader and EXHIB-IT! CEO, DJ Heckes has prioritized customer education as a core company value by publishing hundreds of helpful blog posts, online newsletters, white papers on tradeshow related topics and her first book Full BRAIN Marketing. http://www.exhib-it.com
About Marketing to Go
Laura Furumoto, MBA, is a marketing and PR consultant with over 25 years of experience. She is known as a "get it done" person and describes her services as "Marketing to Go," what you need when you need it, offering strategic planning, marketing, brand management, copywriting and public relations consulting for any sized budget. http://www.marketingtogonow.com