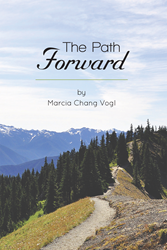 Moving through stages in our life requires change, but unfortunately not everyone can change on their own.
Santa Ana, CA (PRWEB) July 30, 2014
Events in people's lives can hamper their development and be detrimental to their relationships – even with God.
So says Marcia Chang Vogl, founder of Bethany Projects Ministry. Her new book "The Path Forward" is a study guide based on her active personal prayer ministry. The study guide helps people identify both past events and personality traits, which might be keeping them from fully developing their relationship with God. In her book, she provides exercises and advice for clearing away the cobwebs that can be impeding someone's ability to have a closer connection to Christ, as well as to keep those cobwebs from coming back.
Vogl said, "Many Christians have gaps in their faith depending on what stage in their life they accepted Christ. Moving through stages in our life requires change, but unfortunately not everyone makes the change."
She has worked with many people who feel they have lost their way or who just want to take their faith to the next level.
"I like to refer to my ministry as 'trans-denominational.' The exercises in the book are not in conflict with other Christian denominational traditions," Vogl stated.
She has led individuals to a more spiritually enriching path with her personal prayer ministry – corporately and individually – since 1992. She is available for individuals as well as for group ministry.
For more information or to contact her, visit http://www.bethanyprojects.org.
"The Path Forward"
By Marcia Chang Vogl
ISBN: 978-1-4908-3291-3
Available in softcover, hardbound, and e-book
Available on Amazon, Barnes & Noble and West Bow Press.
About the author
Marcia Chang Vogl, an ordained minister, has trained at Wagner Leadership Institute. In addition to forwarding faith, has been very active in the arts. She has a master's degree in music education from the University of Illinois and was formerly an associate director of the Orange County Master Chorale, having led two European tours. Her personal prayer ministry is by appointment.
For review copies or interview requests, contact:
Matt VanScoik
317.602.7137
mvanscoik(at)bohlsengroup(dot)com