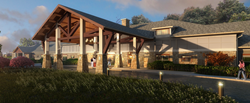 "I look forward to seeing people's reaction to this new community. It will not line up with the traditional perception of senior living, and that's the goal." Jeramy Ragsdale, CEO Thrive Senior Living
Athens, GA (PRWEB) July 30, 2014
Atlanta-based Thrive Senior Living has broken ground this week at The Village at Athens, an innovate new Assisted Living and Memory Care community in Athens, GA. The 70 unit project is a joint venture with Paragon Real Estate, a Chicago-based developer, and Summit Healthcare REIT, a real estate investment trust specializing in healthcare properties.
The Village at Athens will feature luxuriously appointed resident apartments, a spa, beauty salon, fitness center, doctors office, movie theater, multiple courtyards featuring outdoor fireplaces, and much more. Interior finishes will defy the traditional look and feel of most senior living communities, featuring warm tones, stone, wood, and granite surfaces in a lodge-like environment. The community will also feature a completely separate and dedicated Memory Care neighborhood, offering the same quality experience to residents with dementia, in a secure environment. Memory Care residents will be continually engaged with innovative programming and unique technology, creating an environment that fosters cognitive improvement and encourages moments of connection between residents and their friends and family.
Thrives unique approach includes using technology to improve resident quality of life, and to deliver care more efficiently and with more accountability. While the majority of the senior living industry relies on paper records, The Village at Athens will utilize the LG Smart Senior Living platform, which creates an entirely digital environment and integrates communication, medication management, electronic health records, and resident care plans all on a single device in the hands of each care team member. Physicians and pharmacists will have instant access to 'real time' analysis of a resident's complete health picture, allowing a more holistic approach to care. Other systems, such as a keyless access control system powered by RFID, will simplify and improve daily life for residents and their families.
The Village at Athens is located on the east side of Athens, near the intersection of Highway 316 and the Oconee connector. "While they are some great providers of senior care in Athens, the market has grown tremendously over the past 10 years, and hasn't seen a truly innovative new alternative" says Jeramy Ragsdale, CEO of Thrive Senior Living. "I look forward to seeing people's reaction to this new community. It will not line up with the traditional perception of senior living, and that's the goal."
Construction is being handled by Athens-based Compass Contracting. (http://www.compass-contracting.com)
About Thrive Senior Living: Thrive Senior Living is a new and rapidly growing operator with a business model focused on improving resident quality of life through intelligent design, innovation, and accountability. With locations across the southern US, Thrive is continuing to expand and has recently announced a partnership with LG, one of the world's leading technology companies, to develop a suite of solutions uniquely tailored to the assisted living industry. For more information on Thrive Senior Living, visit http://www.thriveseniorliving.com
About Summit Healthcare REIT: Summit Healthcare REIT is a publicly registered non-traded REIT that is currently focused on investing in senior housing real estate located throughout the United States. The current portfolio includes one multi-tenant industrial property and interests in 10 long-term triple net leased healthcare facilities. For more information, visit http://www.shreit.com.
About Paragon Real Estate: Paragon Real Estate is an experienced, full-service commercial real estate firm that actively develops and acquires senior housing, healthcare and retail properties nationwide. As a well-capitalized, privately held firm, Paragon develops attractive, efficient and highly functional buildings; quickly executes purchases of value-add properties; and unlocks capital for companies through its sale-leaseback program. Our strong financial position and national scope allows us to simplify development for our clients and partners. For more information on the company, visit http://www.theparagoncompany.com.