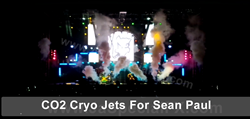 Michael Marsh, of Jamaica told us "Michael and I talked for months about the lack of atmospheric special effects in Jamaica and decided it was time to introduce the island to some real fun experiences."
Atlanta, Georgia (PRWEB) July 29, 2014
Just months after the recent announcement of Atlanta Special FX expanding offices to 4 new states, the exciting FX family does it again! Michael Willett, Owner of Atlanta Special FX and one time farmboy from Arkansas, is shocking the world with his new vision and strategies of bringing innovative event technologies to the masses. This time with their first international corporate office on the event packed island of Jamaica. This new office is scheduled to handle multiple large-scale outdoor festivals and sporting events every month with 10's of thousands of tourists flocking to be included in the parties. Atlanta Special FX has partnered with local resident Michael Marsh of Jamaica after years of working together in the special effects world. Michael Marsh, of Jamaica told us "Michael and I talked for months about the lack of atmospheric special effects in Jamaica and decided it was time to introduce the island to some real fun experiences." The Jamaica office hit the ground running and is already running special effects for festivals such as, Summer Fest, and recently lined the stage with triple nozzle CO2 cryo jets for Sean Paul.
Atlanta Special FX is an atmospheric special effects manufacturer and one of the fastest growing effects companies in the world right now. This one time home based rental group based in Atlanta Georgia is raising eyebrows all around the globe with its unique approach to affordable and dependable effects backed by top-notch customer service. Owner Michael Willett informed us "I still love to answer the phone and talk with our customers. I believe that personal level of customer service is what has catapulted us to the top."
In the span of just over 5 years, Atlanta Special FX has built an extensive database of artists, performers, and corporations in just under 80 countries and has become the go to company for those intrigued by exciting new technology. This new office in Jamaica will offer CO2 cryo jets, new patent pending confetti machines, Cloudvertise®, LED DMX bracelets, UV neon paint cannons, fake snow, and much more.