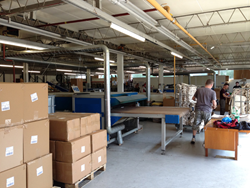 Research shows that 89% of customers will keep a useful promotional product or tool such as a tote bag.
London, Barcelona, Berlin (PRWEB UK) 31 July 2014
Walking down the street, skimming through a magazine, visiting a website, advertising messages are everywhere. There are so many that the consumer cannot even process them all. Customers do not react to promotional efforts that literally just yell "buy me" anymore.
Promotional products are the future of advertising because the customer actively wants them. Some people purposely change their regular brand to receive a freebie. In addition, a customer is far more inclined to engage with a brand when a friend or acquaintance already does, than when a billboard asks them to. Word of mouth is an important tool and Garment Printing can help bring your brand to the mouths of millions.
Printed tote bags are a perfect example of what promotional products can do. They are low-cost, but at the same time long lasting. The possibilities for customised tote bags are endless. They are used as packaging for new clients, for fashion, as give-aways on events, and freebies in online-shop orders to exceed customers' expectations.
Research shows that 89% of customers will keep a useful promotional product or tool such as a tote bag. The tote bag can carry the printed brand logo while at the same time, a design that pleases the customer, and this brings across another message from the brand (for example, a tote bag with a Movember print – customers like to show their own engagement, while at the same time showing the brands' engagement in charities).
The environmentally conscious trend today encourages the frequent use of printed tote bags, keeping the brand in the mind of the customer.
Garment Printing offers printed tote bags made from 100% organic, sustainable cotton, and eco-friendly printing, supporting the environment.
Supporting the summer season, with events made for give-aways, people going to parks and pools and using tote bags, Garment Printing now has tote bags on offer from only £0.65 per unit, promising they will not be beaten on price! This offer follows an expansion of the company's production facilities:
"Expansion within printed tote bags includes a new 10,000 ft. square warehouse to meet increasing demand, which allows more stock holding and more production if required. Capacity allows production of up to 40,000 prints per normal working day, as well as a UK stock warehouse in excess of 1 million bags," comments Gavin Drake, Director, Garment Printing.
If the tote bag as a promotional tool did not convince you, Garment Printing offers all kinds of promotional products, just get in touch.
About Garment Printing:
Garment Printing is an industry-leading international promotional and customised clothing company that aims to maximise the efficiency of marketing teams and agencies through its integrated, global supply chain. Garment Printing offers a complete range of bespoke personalised t-shirt printing techniques, including screen printing, embroidery, direct-to-garment, and the latest dye sublimation t-shirt printing technology combined with express turnaround and excellent customer service. Garment Printing's agency work involves consultation with global brands, marketing teams, and promotional agencies to ensure all printed clothing campaigns are realistic, within budget, and effective. Its dedicated team act as extended members of the client's business to efficiently exceed customer and client expectations. For more information, visit our website, follow us on LinkedIn, Facebook, and Twitter.