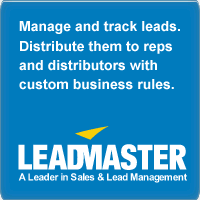 Roswell, GA (PRWEB) July 31, 2014
LeadMaster, a leader in sales lead management & marketing automation solutions, announces integrations with CounterPath and InterFax. The new LeadMaster integration with CounterPath's Bria4 soft phone provides advanced VoIP dialing. The new LeadMaster integration with InterFax provides HIPAA compliant send fax capability.
CounterPath's latest soft phone product allows LeadMaster users to dramatically improve productivity by simply clicking on a phone number to place a call. The Bria4 is a carrier grade soft phone providing the ability to make and receive phone calls and video calls over the Internet. It also supports instant messaging and file transfer. The Bria4 works on the Windows 7 and 8 operating systems as well as Mac platforms. When used in conjunction with the LeadMaster Smart Queue, this integrated solution provides tremendous efficiency for sales teams, improving both speed to connect and daily call volume. Configuring LeadMaster to support click-to-call with the Bria4 takes only a moment, simply enable click-to-call in LeadMaster, enter VoIP logon credentials into the soft phone and the configuration is complete.
The InterFax integration allows LeadMaster users to send and receive faxes from within the LeadMaster application. The InterFax integration works within the LeadMaster Connector Architecture. The connector architecture is a framework for integrating LeadMaster with third party applications through the built-in LeadMaster workflow function. To enable the send fax function in LeadMaster, the user enters their InterFax user name and password and selects a fax template in the workflow automation function. With the configuration complete, anytime the user wants to send a fax they simply select the checkbox or drop-down menu that activates the workflow. Users can configure different checkboxes to send different fax templates. Sending a fax in LeadMaster is as easy as clicking a checkbox.
These integrations are available today in the standard LeadMaster configuration.
About LeadMaster
LeadMaster offers a multi-function cloud-computing software solution for sales and marketing professionals. Everything you need in one easy-to-use online web-based application. You can choose to implement an end-to- end Sales Lead Management CRM Software solution or select specific point solutions to satisfy your sales & marketing requirements.
LeadMaster's on-demand customizable SaaS solutions combine sales lead management software, lead tracking solutions, sales force automation tools (SFA), customer relationship management features (Sales CRM), LeadMaster Voice solutions and virtual call center solutions. This powerful web-based application has helped companies large and small from virtually every industry.
The LeadMaster sales lead management CRM solution is intuitive and easy to use, providing real-time lead capture, lead distribution, lead tracking, lead nurturing, custom reporting and email marketing. LeadMaster makes it easy to qualify and convert leads from virtually any source - landing page, email, call center, webinar, sales lead suppliers and more.
The LeadMaster sales lead management CRM product is straightforward and easy to learn yet has robust features like workflow & marketing automation, round-robin lead distribution, mobile access, CRM analytics and Outlook integration.
LeadMaster products and services are available through a global network of value-added resellers, consultants and system integrators.