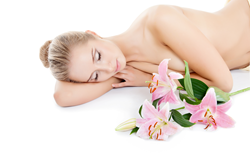 Carole Gardner states, 'Our treatments are a noninvasive, cosmetic procedure, which helps lift, firm, and tone sagging skin. It even helps improve the appearance of cellulite.'
Asheville, NC (PRWEB) July 29, 2014
Most people want to turn back the clock on aging. People like to look younger and feel better about their appearance. There are anti aging microcurrent facials and now body work too in Asheville, NC that can help them to look their absolute best. Supreme Skin is a skin care salon specializing in result oriented anti-aging procedures that are noninvasive and they adding some body treatments to help the stubborn problem so many have with cellulite. To accommodate, they are also in the process of renovating a new treatment room with a relaxing and welcoming feel. They look forward to celebrating once the expansion is finished.
These anti aging face and body treatments have the ability to restore energy to the tissues and so the result is younger looking, healthier skin. These specialized treatments are in essence resulting in a non-surgical lift, toning and balancing the skin anywhere on the body. In a non-invasive way, the procedure stimulates elastin and collagen production and much more. Elastin and collagen are two important proteins required for the skin to stay glowing and youthful. The result is toned skin having less sagging, less wrinkles, decreased pore size, decreased cellulite and the overall smoother texture of the skin.
Supreme Skin's anti-aging microcurrent treatments in Asheville, NC involve the utilization of the low level current which stimulates muscles and revitalizes the skin back to a more youthful state.
They can infuse elastin and collagen directly back into the skin in a way that that they are evenly distributed and give the skin back what it needs to look younger. These infusion treatments can also be combined with a skin brightening and super hydrating treatment and are helpful for the body treatments as well.
This exclusive microcurrent sculpting system reduces the appearance of body imperfections such as cellulite, thus providing you with a fresher, younger look. These procedures are designed to work on the muscles at the cellular level. The Microcurrent helps to dissolve the fat layer just below the skin and also breaks up the scarred tissue. Thus it helps in the reduction of cellulite, removal of the scarred tissue and increase the elasticity of the skin. The result is younger looking, healthier skin.
Carole Gardner, the manager of Supreme Skin in Asheville, NC states, "Our Anti-aging Microcurrent treatments are a painless, non-invasive, cosmetic procedure, which helps lift, firm, and tone sagging muscles restoring them back to their original position and shape. It helps improve the appearance and health of the skin, even cellulite reduction. We're looking forward to getting our new treatment room ready for continued great results for our clients."
Supreme skin offers face and body sculpting that provides results with gentle microcurrent technology. Any type of skin responds to it. It is extremely gentle. People of any age, even young people can benefit too, because it does help to prevent the natural progression of the aging process at the cellular level.