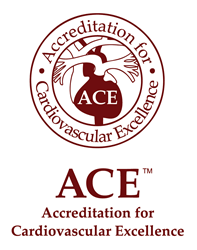 I am encouraged by the increasing number of facilities applying for ACE accreditation. Our number of accreditations doubled in 2013 and again in 2014. We expect to see this trend continue into 2015. -- Bonnie H. Weiner, MD, and CMO for ACE
Washington, DC (PRWEB) July 29, 2014
A new 3-part video series: The Cost/Benefit of ACE Accreditation, filmed during the 2014 Society for Cardiovascular Angiography and Interventions (SCAI) Scientific Sessions in Las Vegas, NV, will be released this week. The videos review the benefits of ACE accreditation and the cost/benefit of investing in accreditation services for the cardiac catheterization laboratory from the perspective of clinicians who have worked with ACE.
In the first video, Jane Kiah, MS, RN, Director of Cardiac and Interventional Services at Baptist Cardiac & Vascular Institute, discusses how Miami Baptist Hospital justified the cost of ACE Accreditation and the reduction in costs and recognition by payers it brought to her facility. In the second video, Ralph Brindis, MD, MPH, MACC, FSCAI, Past President, American College of Cardiology, ACE Vice Chair discusses why hospitals apply for ACE accreditation and the multiple benefits, including cost reductions, they gain from the process. In the third video, Alan J. Simons, MD, FACC, FSCAI, St. Joseph's Hospital Health Center discusses how ACE Accreditation helped St. Joseph's keep a competitive edge in the Syracuse area of upstate NY where there are many rival hospital systems providing invasive cardiology services.
Click the following link to view: Jane Kiah, MS, RN: How Miami Baptist Hospital Justified the Cost of ACE Accreditation http://youtu.be/yVW_tiqm3IY
Click the following link to view: Ralph Brindis, MD: Why Hospitals Accredit with ACE
http://youtu.be/_gtN6Lnyksc
Click the following link to view: Alan Simons, MD: How ACE Accreditation Helped St. Joseph's Keep a Competitive Edge http://youtu.be/UTIQmuLWOdM
In addition, ProMedica Toledo Hospital, Toledo, OH, has joined the rapidly rising number of hospital facilities and systems achieving distinction as cardiac catheterization laboratories that have attained accreditation with ACE. ProMedica is the first hospital in Ohio to achieve ACE accreditation. Recently Healthgrades, a U.S. company that develops and markets quality and safety ratings of health care providers, announced that ProMedica Toledo Hospital is the only hospital in Ohio named a Distinguished Hospital for Clinical Excellence (Top 5% of the nation) from 2012-2014, and has been named as a recipient of the Patient Safety Excellence Award (Top 5% in the nation) from 2010-2014. "I am encouraged by the increasing number of facilities applying for ACE accreditation," said Bonnie H. Weiner, MD, FSCAI, and CMO for ACE. "Our number of accreditations doubled in 2013 and again in 2014. We expect to see this trend continue into 2015."
About Accreditation for Cardiovascular Excellence (ACE)
ACE, an independent organization sponsored by the Society for Cardiovascular Angiography and Interventions (SCAI) and the American College of Cardiology Foundation (ACCF), offers independent evaluation and monitoring of facilities that provide cardiovascular care. By reviewing facility and operator performance and comparing clinical decision-making to nationally accepted best practices; ACE quality review and accreditation services play a critical role in continuous quality improvement programs. Learn more at http://www.cvexcel.org.