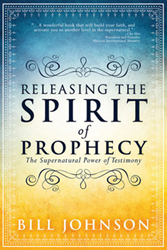 ...A wonderful book that will build your faith, and activate you to another level in the supernatural.
Shippensburg, PA (PRWEB) October 24, 2014
…For the testimony of Jesus is the spirit of prophecy (Revelation 19:10).
"...A wonderful book that will build your faith, and activate you to another level in the supernatural." — Che Ahn, President and Founder, Harvest International Ministry
Telling people about the miracles in experienced in one's life makes God more real to others and draws them closer to Him. As people hear about God's supernatural acts, they start to expect and see the extraordinary happen in their own lives. As miracle stories are shared, the spirit of prophecy is actually released and into the atmosphere with the declaration that "The Jesus Who transformed my circumstance will do the same for you!"
In this timely repackaged edition of "Release the Power of Jesus," Pastor Bill Johnson shows readers how to release God's power wherever they go by simply talking about His miracles.
Johnson helps readers discover how to build a supernatural heritage by sharing stories of God's acts, creating an atmosphere of faith and expectancy for the healing power of Jesus. He encourages readers to activate everything they have received from God through inheritance, helping them understand that one's spiritual birthright is to experience and release the power of Jesus—everyday, everywhere.
Share the stories of miracles and watch these prophecies of God's power set the world on fire today!
Interviews, review copies and giveaway copies are available upon request.
Bill Johnson is a fifth-generation pastor with a rich heritage in the Holy Spirit. Together Bill and his wife serve a growing number of churches that have partnered for revival. This leadership network has crossed denominational lines, building relationships that enable church leaders to walk successfully in both purity and power. Bill and Brenda (Beni) Johnson are the senior pastors of Bethel Church, Redding, California. All three of their children and spouses are involved in full time ministry. They also have nine wonderful grandchildren.
Destiny Image, located in Shippensburg, Pa, was founded in 1983 by Pastor Don Nori, Sr. It seeks to accurately represent authors who have a call to share God's present word to His people and to make these authors easily accessible to the Christian body around the world in every form of media possible.
To download a press kit, click here.
FOR PRESS INQUIRIES, INTERVIEWS AND REVIEW COPIES:
Brad Herman
(719) 439-4960
bherman(at)norimediagroup(dot)com
To join our media contacts list, click here.