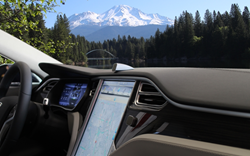 Chicago, IL (PRWEB) July 29, 2014
Neutron A, a Kickstarter project by Bungajungle reveals a new type of smartmount for automobiles that uses NFC technology and shielded magnetism to mount your phones and tablets.
As stated in Wikipedia, Near field communication (NFC) is a set of standards for smartphones and similar devices to establish radio communication with each other by touching them together or bringing them into proximity, usually no more than a few centimetres.
By having an embedded NFC chip on the mount users can automatically start apps such as music or GPS by just mounting their device. It can automatically start safe driving settings on the phone or can be programmed to automatically send texts to let others know you're driving. As stated by the National safety Council, 25 % of accidents are due to texting, so this could be a very important for accident reduction and road safety.
The Neutron A is a new product that developed from a previous successful kickstarter project called the Neutron S. Both the new Neutron A and a second generation Neutron S are being offered in this new project.
Neutron A is made from anodized aluminum and neodymium magnets. Although the magnets have a strong magnetic hold, the magnetic field does not enter into the device, which could affect the electronics such as compass and GPS. Your devices can be mounted instantly and removed instantly and easily. The Neutron A offers 360 degree rotation in any direction.
Currently the Neutron A is being offered for pre-order on Kickstarter. The early bird Neutron A is being offered for $45. The link to the project: http://kck.st/1kPBslE