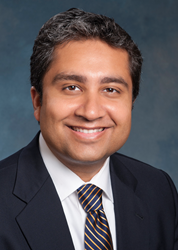 With Dr. Upadhyaya leading our spine team we will be able to provide the highest quality care for patients who experience spine issues and back pain.
KANSAS CITY, Mo. (PRWEB) July 31, 2014
Cheerag D. Upadhyaya has joined a team of highly experienced, sub-specialty trained neurosurgeons at the Saint Luke's Marion Bloch Neuroscience Institute(SLMBNI) as Director of the Spine Program and director of spine surgery. He comes to SLMBNI from the Kadlec Neuroscience Center in Richland, Wash.
"Dr. Upadhyaya has been recognized for his excellent work, research and leadership in minimally invasive and complex spine issues. His addition to the Saint Luke's Marion Bloch Neuroscience Institute is a great step in advancing our Spine Program, and we are excited to have him as part of our neurosurgery team," said Darren Lovick, M.D., surgical director of SLMBNI.
The SLMBNI minimally invasive spine surgery team uses specialized technology and expertise, resulting in quicker recovery, less pain and better outcomes for patients. Saint Luke's utilizes a multidimensional imaging system, which provides surgeons with real-time, 3-D images, while its use of stealth navigation technology enhances precision and patient safety.
"Dr. Upadhyaya will allow us to provide the highest quality care for patients who experience spine issues and back pain, and provide safe, minimally-invasive or complex treatments whenever needed," said Dr. Lovick.
Dr. Upadhyaya earned his medical degree from the University of Florida and completed his general surgical internship and neurosurgical residency at the University of Michigan. While there, he was a Robert Wood Johnson Clinical Scholar and earned a master's degree in health care research. Dr. Upadhyaya completed a fellowship in complex and minimally invasive spine surgery at the University of California, San Francisco and his clinical research has appeared in peer-reviewed journals, books, videos and at industry conferences. Currently he serves as assistant clinical professor of neurosurgery and orthopedics at the University of Missouri – Kansas City School of Medicine.
Dr. Upadhyaya is a recipient of the AANS/CNS Spine & Peripheral Nerve Section-Outcomes Committee Award–2011, and was nominated for the prestigious Whitecloud Award for Best Clinical Paper at the 17th International Meeting on Advanced Spine Techniques (IMAST) for cervical arthroplasty. Dr. Upadhyaya serves on the AANS Young Neurosurgeons Committee and other national committees.
Dr. Upadhyaya's published videos include: mini-open removal of intradural spinal tumor (3-D),intraoperative navigation assisted placement of percutaneous pedicle screws, and mini-open posterior approach for adult deformity correction.
About Saint Luke's Marion Bloch Neuroscience Institute
Saint Luke's Marion Bloch Neuroscience Institute(SLMBNI), a member of Saint Luke's Health System, is the only dedicated neuroscience hospital in Kansas City. Opened in 2013, SLMBNI brings together a team of the country's most accomplished neurologists to provide a comprehensive treatment center for the most complex neurological issues, such as stroke, epilepsy, brain tumors, facial pain, Parkinson's disease, Alzheimer's, headaches, aneurysms, and the latest in minimally invasive spinal surgical techniques. Saint Luke's Hospital of Kansas City was recognized by U.S. News & World Report's 2014-15 Best Hospitals for excellence in neurology and neurosurgery. Our patients benefit from easier access and streamlined care as SLMBNI brings together leading-edge diagnostics, treatment, and surgical services in one convenient location.
Saint Luke's Health System
Saint Luke's Health System consists of 10 area hospitals and several primary and specialty care practices, and provides a range of inpatient, outpatient, and home care services. Founded as a faith-based, not-for-profit organization, our mission includes a commitment to the highest levels of excellence in health care and the advancement of medical research and education. The health system is an aligned organization in which the physicians and hospitals assume responsibility for enhancing the physical, mental, and spiritual health of people in the Kansas City metropolitan area and the surrounding region.