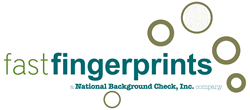 Columbus, OH (PRWEB) July 30, 2014
FastFingerprints, a National Background Check, Inc. company, is expanding its livescan fingerprinting services to Washington, D.C. FastFingerprints' fingerprint card capabilities and Florida Level 2 Livescan services will be available at their Farragut Square location in downtown Washington, D.C. on Monday August 11, 2014.
This new location utilizes FastFingerprints' livescan fingerprint capture, which has the ability to obtain the best quality fingerprint images for printing onto fingerprint cards. Applicants can walk into this location without an appointment, and within minutes have their fingerprints captured onto cards. This new FastFingerprints' location can also assist any individual who requires fingerprint cards for other licensing or employment reasons.
FastFingerprints' Farragut Square location, will also provide Florida Department of Law Enforcement (FDLE) Level 2 Livescan background checks. Anyone in the DC area planning to move to Florida will be able to obtain a Florida background check in advance. As an approved Level 2 livescan vendor for FDLE, FastFingerprints is able to capture fingerprints electronically and transmit them directly to FDLE; results are then delivered to the state agency requesting the background check. Florida state agencies, such as the Department of Health (DOH) and the Agency for Health Care Administration (AHCA), also require a photo with each background check. FastFingerprints has Photo Capture capabilities to meet that need, allowing for the capture of the applicants photo for transmission to FDLE, at the time of fingerprinting. This process meets the Level 2 Livescan background check requirement for the state of Florida.
The new Farragut Square FastFingerprints is located inside Apostille Courier Express at 1629 K Street, Suite 300, Washington, D.C. 20006 (inside The Davis Building). Their hours of operation are Monday-Friday 10:00am-12:00pm and 1:00pm-4:30pm. Walk-ins are always welcome.
About FastFingerprints
FastFingerprints, a division of National Background Check, Inc., has been a leader in the services, technology, and equipment required to process state and FBI background checks via electronic fingerprinting for over 15 years. In addition to 14 locations in Ohio, 21 in Florida, and 2 in Arizona, FastFingerprints' parent company (NBCI), is one of the few companies in the nation to be recognized by the FBI as an approved FBI Channeling Agency that processes FBI requests for federally legislated purposes. More information on acquiring an FBI criminal history check for personal reasons can be found at http://www.nationalbackgroundcheck.com under the FBI Channeling tab. All FastFingerprints' locations welcomes walk-ins. To find a location near you, please visit http://www.fastfingerprints.com or call 1.877.932.2435.