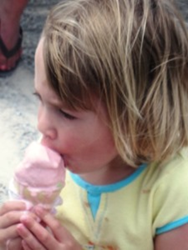 Sharing unique time together makes any family vacation better so an ice cream experience can be a 'sweet' family vacation bonus.
Tampa, Florida (PRWEB) July 31, 2014
July is National Ice Cream Month and across the US ice cream makers and ice cream parlors have been featuring new flavors and supporting summer celebrations with the taste of summer. But July does not conclude the fun to be had at best ice cream experiences in the US because ice cream factory tours, working dairy farms, and the most engaging ice cream parlors feature delightful ice cream experiences all year long.
While everyone has a favorite ice cream flavor, and perhaps a favorite ice cream brand or parlor, it is always fun to make a new discovery; taste a new flavor or create the perfect ice cream sundae in a new place or in a new way.
According to Nancy Nelson-Duac, curator of the Good Stuff for TheFamilyTravelFiles.com, "There is more to ice cream and ice cream experience than crispy waffle cones, scrumptious sundaes, and thick shakes. Kids love to learn how stuff works and on ice cream factory tours watching the creation of ice cream is an added bonus to the flavorful treats."
Sharing unique time together makes any family vacation better so an ice cream experience can be a "sweet" family vacation bonus. The best ice cream experiences in the US also offer tempting flavors.
The sweet list includes:
1. Kelley Country Creamery's near Fond du Lac, Wisconsin. Tempting Flavors: Banana Nut French Toast and Barnyard Bash.
2. The Farmer's Cow Ice Cream in Connecticut. Tempting Flavors: Heifer Nutter Peanut Butter Cup and Muddy Boots Knee Deep in Chocolate.
3. Homeland Creamery near Julian, North Carolina. Tempting Flavors: Lemon Crunch and Apple Pie.
4. Turkey Hill "Ice Cream" Experience in Pennsylvania. Tempting Flavors: Muddy Sneakers and Woopie Pie.
5. Berkey Creamery at Penn State University. Tempting Flavors: Goo Goo Cookie Cluster and August Pie.
6. Blue Bunny Ice Cream in Iowa. Tempting Flavors: Bunny Tracks vanilla with peanut butter filled chocolate bunnies and Huckleberry.
7. Blue Bell Creamery in Brenham, Texas. Tempting Flavors: Dessert Trio and Magic Cookie Bar Ice Cream.
8. Ben & Jerry's Ice Cream in Waterbury, Vermont. Tempting Flavors: Cluster fluff involving peanut butter and Late Night Snack involving potato chips.
9. Graeter's Ice Cream in Columbus, Ohio. Tempting Flavors: Black Raspberry Chocolate Chip and Buckeye Blitz and several gelato choices.
10. Velvet Ice Cream in Utica, Ohio. Tempting Flavors: Turtle Tracks and Buckeye Classic with Buckeye candies.
More details about the 10 best ice cream experiences in the US may be viewed from the homepage of theFamilyTravelFiles.com.
About theFamilyTravelFiles.com
Founded in 1998, theFamilyTravelFiles.com is one of America's top-rated online family travel resources offering more than 1000 pages of timely family vacation ideas and trip planning information. To assist in narrowing searches for the perfect family vacation, colorful vacation idea folders are visible throughout the website.