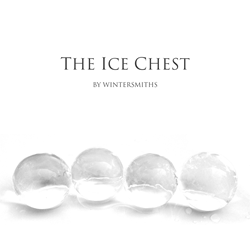 Charlotte, Vt. (PRWEB) July 31, 2014
Wintersmiths, launched their second Kickstarter campaign on July 24 to raise $50,000 for production of their newest product and reached their goal within just 22 hours of launching.
The Ice Chest features a slim mold design that is engineered to make four large crystal clear, slow-melting ice spheres in an ordinary freezer with tap water. Wintersmiths is building on the success of its first Kickstarter campaign for the Ice Baller, which exceeded its goal by more than $153,000.
"One of the reasons we are so excited about the Ice Chest is that we were able to incorporate a lot of feedback from Ice Baller users into the design," said Wintersmiths founder, Chris Little. "Specifically, we increased the output to four ice balls at a time, reduced the height, and made it super easy to use."
The idea for Wintersmiths came to founder Chris Little after a business trip to Tokyo where he experienced his first cocktail that used a single clear ice sphere instead of ice cubes. Seeing a gap in the market for a single device that could make clear, spherical ice at a reasonable cost, Chris and his brother, Pat Little, set out to create their own. Using their combined skills in marketing, sales, and engineering, Chris and Pat harnessed the science of directional freezing to help cocktail connoisseurs achieve colder, less diluted, and more beautiful drinks.
With key features that include a slim form, BPA-free lightweight materials, and a reduced height, Wintersmiths has developed a unique modular design with the Ice Chest with plans to accommodate additional molds for other ice shapes and sizes in the future. The company completed extensive product development and testing and is now ready for production. This new 45-day campaign for the Ice Chest is set to end on September 4, 2014.
For more information about Wintersmiths product designs, company background, and other barware accessories, please visit http://www.wintersmiths.com/.
###
About Wintersmiths
Wintersmiths firmly believes that ice is a critical component to concocting an exceptional cocktail. Selecting the perfect ice for the perfect drink is equal parts art and science. Last year, founders Chris and Pat Little made crystal clear ice spheres accessible to American markets. After a highly successful Kickstarter campaign for production of their flagship Ice Baller, the company has launched a second campaign for the Ice Chest. Through online sales, the Vermont based company now offers luxury barware at a welcome price. For more information on Wintersmiths, visit http://www.wintersmiths.com/.
Contact: Jasmine Mitchell
People Making Good PR
(857) 284-4826
jasmine(at)peoplemakinggood(dot)com