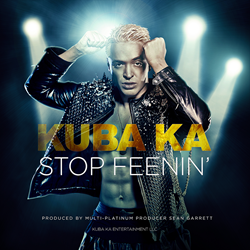 KUBA firmly believes that "Entertainment power can heal the world." With the Army of Lights, KUBA Ka hopes to "shine the light of entertainment on the darkest places in the world."
Los Angeles, CA (PRWEB) July 30, 2014
Multimedia entertainer KUBA Ka may be an emerging name on the American entertainment horizon, but his star has been shining brightly in his native Poland since he was 5-years-old. With his latest adrenaline filled power fusion single "Stop Feenin'" recently released, and a supporting role in Hollywood's Live Nude Girls about to hit the big screens in August, KUBA Ka is the next big name to watch on the American entertainment landscape in the very near future.
Never content with limiting himself to a particular genre of the entertainment industry, KUBA Ka has endeavored into many different fields throughout his career, making him a performer who has always been impossible to pin down to any category. For example, KUBA won his local Odyssey of the Mind performance competition in 1998, which sponsored his trip to Washington, DC to perform in the international competition, he has received the Greatest Humanitarian Award in Poland by Queen Elizabeth's Royal Society for the Prevention of Cruelty to Animals (RSPCA) in 2000, and won the Ambassador of Freedom Honor at 2011's international YACH Film Festival for the video of his song "Streets of Freedom." The Film Festival's artistic director recognized "Streets of Freedom" as "raising the issues of freedom in a contemporary world."
Within the borders of his home country, KUBA has long been acknowledged for his humanitarian efforts, whether as a 12-year-old performing benefit concerts for the flood victims of Poland, or as a 14-year-old Ambassador for the United Nations and UNICEF, which lead to his organizing annual KUBA and Friends charity shows, hosted alongside Oscar-winning actress Vanessa Redgrave. The KUBA and Friends performances were witnessed by thousands of people live, but by millions more on television.
KUBA Ka's humanitarian work also saw him leading an expedition of journalists to animal shelters and the illegal markets of suffering horses in 2001, where he sought to expose the abuse of defenseless animals. Currently, he is establishing his KUBA Ka Army of Lights humanitarian organization which seeks to "help all of those who have lost hope, and those who are forgotten." KUBA firmly believes that "Entertainment power can heal the world." With the Army of Lights, KUBA Ka hopes to "shine the light of entertainment on the darkest places in the world."
If all of KUBA's humanitarian work brings to mind the career of legendary superstar Michael Jackson, there may be a reason for that. Although KUBA had already set his own path as a child performer growing up in Poland, he was later brought to the attention of American audiences by Jackson's former manager Frank DiLeo. DiLeo guided KUBA's career until his death in 2011, when KUBA's friend, and Michael's sister, LaToya Jackson stepped in and introduced him to Universal Music, where, after recording "In The Streets," his first single for them, he was given the creative control of his own production company, KUBA Entertainment.
Since then, KUBA has released a number of successful dance tracks, such as "Physical Attraction," "Combat," and the award winning "Streets of Freedom." KUBA has also collaborated with some of the top names in the industry, such as Lady Gaga choreographer Laurieann Gibson, rap superstar Flavor Flav, fashion designer Donatello Versace, and, for his "Stop Feenin'" single, legendary writer/producer Sean Garrett, who has worked with everybody from Beyoncé and Usher to Janet Jackson and Jay-Z. With "Stop Feenin'" about to be featured in the soon to be released action-comedy Live Nude Girls, along with a guest starring role by KUBA Ka himself, it will not be long before America will find out about this entertainment powerhouse.