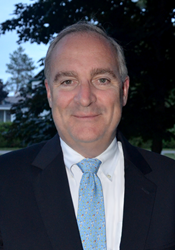 Tim brings both the industry experience and management style necessary for leading the company
Coldwater, Ohio (PRWEB) July 31, 2014
Coldwater Machine Company has announced the appointment of Tim McCaughey as president. McCaughey replaces Jerry Meyer who served as president of the company for 31 years. Meyer will remain on the board of directors and as a co-owner of the company with North River Capital, a private investment company based in Fort Wayne, Indiana.
Prior to joining Coldwater Machine, McCaughey was with The Schuler Group for 32 years. His last position at Schuler was as president and CEO of Schuler, Inc. (Canton, Mich.), where his focus on creating a more responsive and customer-focused organization led to significantly improved market share and steady growth.
"We are very happy Tim has agreed to lead the outstanding team at Coldwater.," said Gary Rohrs, partner, North River Capital, "He brings both the industry experience and management style necessary for leading the company as we transition from Jerry's leadership."
"Jerry did an outstanding job growing Coldwater from a small, one-owner, machine tool job shop to a large engineering solutions company that manufactures and integrates precision equipment and tools for multiple industries," continued Rohrs. "We are confident that Tim has the experience and skill to continue Coldwater's expansion and reach into new markets and technologies."
McCaughey has a BA from Albion College, where he double-majored in Economics/ Management and Speech Communications. He obtained his MBA, focused on competitive strategy and negotiations, from Kellogg School of Management at Northwestern University.
He currently sits on the board of Schuler Incorporated and is on the advisory council for Advanced Manufacturing at Wright State University.
Coldwater Machine Company is a leader in the design, build, and integration of specialized equipment for industrial component manufacturing, primarily serving companies in the automotive, aviation, aerospace, appliance and energy industries that are producing products with tight tolerances. With over 50 years' experience, the company's key competencies include precision machining and assembly, engineering support, manufacturing systems that support production solutions, and solid-state welding/joining systems.
For more information on Coldwater Machine capabilities, visit http://www.coldwatermachine.com