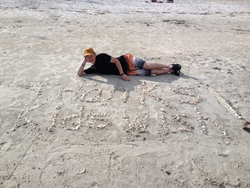 My favorite part of the trip was snorkeling. It was all really cool.
Bartlesville, OK (PRWEB) July 29, 2014
Jack Britt, of Bartlesville, O.K., is an active and adventurous 12-year-old who loves to be outdoors and explore nature. Unfortunately last year, Jack was diagnosed with a life-threatening medical condition, and his exploring days could have been numbered. His condition stabilized and, thanks to children's charity Kids Wish Network, Jack was recently able to discover all the beauty of Florida's Sanibel Island.
During the summer of 2013, Jack started experiencing severe abdominal pain and doctors performed an appendectomy, expecting him to quickly recover. When Jack's symptoms didn't improve, his doctors ran more tests and diagnosed Jack with hemolytic uremic syndrome, an anemia caused by the destruction of the red blood cells that leads to acute kidney failure. During his hospitalization, Jack received dialysis and multiple blood transfusions. Jack had several days of critical lab results indicating kidney failure and severe anemia.
Thankfully, Jack's treatment in the hospital improved his condition and he was able to enjoy his fantastic wish trip to Florida's beautiful Sanibel Island.
The Britt family enjoyed the ideal Florida vacation and stayed right on the beach at the luxurious Sanibel Siesta on the Beach, tasted fresh local cuisines, and participated in all the exciting beach activities. Jack's number one goal of his wish trip was to snorkel, and with the help of Guardian Angel sponsor Adventures in Paradise, "Captain" Jack got a full day of seashell snorkeling where they even let him drive the boat.
"My favorite part of the trip was the snorkeling," recalls Jack. "We found seashells and then I got to drive the boat to the other side of the island where we saw tiny crabs and fish. It was all really cool. Thank you so much."
Kids Wish Network and the Britt family would like to thank all the sponsors who helped grant Jack's wish: Sanibel Siesta on the Beach, Dollar Rent A Car, Jerry's Shopping Center, The Fish House, Cheeseburger Cheeseburger, Barnacles Waterfront Dining, Tarpon Bay Explorers, Adventures in Paradise, Sanibel Thriller, and Beach Stuff, Inc.
Jack is currently doing well. He treats his condition with medication and gets regular check-ups. He's looking forward to starting football again at school this fall. Watch Jack's wish video at: https://www.youtube.com/watch?v=jbpMAzNY_OE.
Kids Wish Network is a Florida-based charitable organization dedicated to infusing hope, creating happy memories, and improving the quality of life for children having experience life-altering situations. Come experience the Kids Wish Network difference at http://www.kidswishnetwork.org.